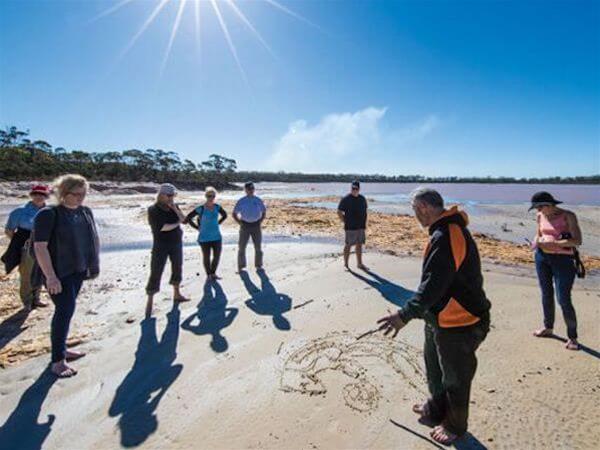 Poornarti Aboriginal Tours
Day and camping tours in Denmark, Albany and Stirling Ranges. All of this with your knowledgeable guide, Joey Williams, Elder of the Koreng people.
Open days/Times:Daily
Tour Duration:1.5 hours - 6 days
Tour Price:$75 - $2000
Type:Tours
Activity:Aboriginal Bushfoods,Aboriginal Music, Art & Dance,Aboriginal Owned & Operated
Suited For:Families,Kids (4 - 12),Teens (13 - 17),Adults (18+),Seniors
Details
Tour Capacity:Min of 2 people
Tour Locations:Various locations
Type:Tours
Suited For:Families,Kids (4 - 12),Teens (13 - 17),Adults (18+),Seniors
Description
Poornarti Aboriginal Tours offers 4 different tours as well as the option to customise a personal tour to suit your needs and interests. The 4 tours on offer are: Kwoorabup Kinjarling Day Tour, SoulCamps, Vibrational Healing and Water Nurture Tour, and the Stirling Range Tour.
DENMARK/KWOORABUP TOUR DETAILS:
Learn of hunting and farming practices, the impacts of colonisation and the Stolen Generation, the importance of the Dreamtime and songlines and much more.
Cost, $165 per person, $145 concession (pensioner, health care card), $ 75 per child under 15, $450 family (2 adults, 2 children), $600 group (4 adults). Minimum 2 person.
SOULCAMP TOUR DETAILS:
This cultural camp is held at Mount Trio Bush and Caravan Park, in the heart of the iconic Stirling Ranges in Western Australia. The camp runs from 22nd to 27th November 2019. With an Aboriginal Elder as your host and guide, you will gain knowledge of indigenous truths. Invited, facilitators, practitioners, mentors and people with expertise in play, ceremony, healing and nature connection, will guide our group at different times throughout the camp.
Cost, Prices are inclusive of all meals, camp fees, camping equipment (tent, air bed and sleeping bag) and activities.
$1450
VIBRATIONAL HEALING AND WATER NURTURE TOUR DETAILS:
Departing 10am, pick ups from Denmark, and surrounds. Duration, 1.5 -2hrs, dependent on numbers. Minimum 2 persons. 15 yrs+ only.
Experience a unique Noongar healing technique that has been passed down through generations of Mubarrn (law men). You will be taken to a significant water location and receive a traditional reconnection smoking ceremony, a water nurture and a vibrational water healing. Bathers and towels required.

Cost, $165 per person, $140 concession (pension, healthcare card), $600 group (4 persons).
STIRLING RANGE TOUR DETAILS:
On this full day excursion with Poornarti Aboriginal Tours, your guide is Joey Williams, an Elder and Lore Man of the Koreng people and a talented artist. As a child he lived in the bush with his family and the traditional knowledge of living in harmony with Mother Earth, was passed on to him.
Inclusions:
Full day tour led by Joey Williams and assistant. All transfers in air conditioned 13 seater mini bus. Morning tea, lunch and complimentary water bottle. Unique souvenir for each participant.
Features:
Scenic drives with on board commentary.
Visit significant sites including Bluff Knoll, Moingup Springs and the Lake of Many Colours.
Dreamtime storytelling.
Ceremony.
Aboriginal language.
Participation in Noongar song and dance.
Traditional Art Demonstration.
Bush tucker walk.
Artefact show and tell.
Art Sale.
Cost, $265 per person, Child under 15 and concession card holders $227, Family (2 adults, 2 children) $925, Group 4 adults $995, Group 6 adults $1320,
Group 10 adults $2000
Location