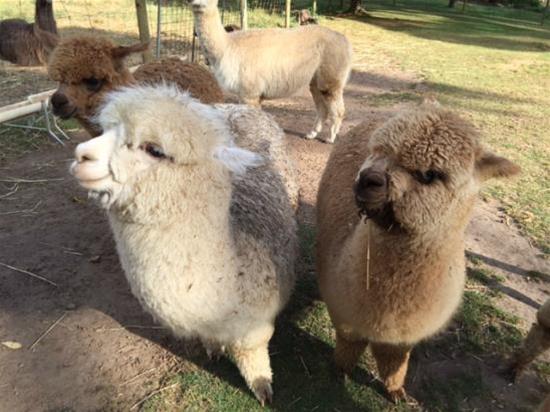 A hands-on animal farm and wildlife park where visitors can feed, pat and get up close to lots of friendly and interesting animals.
Open days/Times:Open Daily 10am - 4pm
Activity:Animal Farm
Suited For:Toddlers (0 - 3),Kids (4 - 12),Teens (13 - 17),Adults (18+),Seniors,Families
Details
Suited For:Toddlers (0 - 3),Kids (4 - 12),Teens (13 - 17),Adults (18+),Seniors,Families
Open Days:Monday,Tuesday,Wednesday,Thursday,Friday,Saturday,Sunday,Public Holidays
Description
Open Daily 10am to 4pm with koalas fed at 10am and bottle feeding at 3pm. Closed 24th and 25th December.
The farm is designed to be as interactive as possible, giving visitors a special opportunity to connect with the animals. Enjoy nursing a rabbit or newborn lamb, cuddling a kangaroo joey, patting a koala, hand feeding and stroking an alpaca - children and adults alike will just love getting up close to the animals. There are hairy Scottish Highland cows (and calves), ferrets, foxes, rabbits, guinea pigs, chickens, goats, sheep, llamas, horses, camel, donkeys, pig, emus, aviary birds and more.
The best time to see the koalas is during feeding time when you can catch them awake. Depending on what arrivals we have throughout the year, the bottle fed babies include calves (including Scottish Highlands), lambs, kid goats, piglets and joeys.
Pentland Alpaca Stud imported the first alpacas into WA in 1990, and have been breeding and showing alpacas ever since. A family business that was started by Laurie and Margaret Binks on what was originally a dairy farm. It is now owned and operated by their daughter Debbie and her husband Steve Maddams.
Location
Address: 2019 Scotsdale Rd,Denmark,WA,6333
Phone: (08) 9840 9262
Email: [email protected]