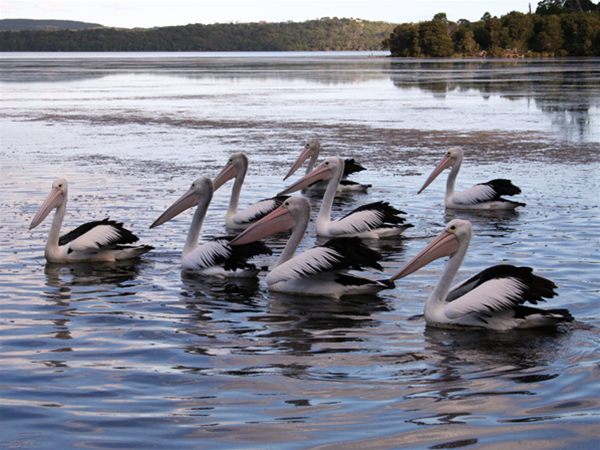 Set amongst the grand karri trees of the Great Southern alongside the sparkling waters of Wilson inlet in Denmark Western Australia, Pelicans at Denmark offers a unique getaway to holiday makers seeking a 4.5 star experience in either a romantic cottage, a stylish modern chalet, or a family style home.
Details
Capacity:6 beds
Type:4 - 5 Stars,Beach House,Chalets,Holiday House
Facilities:Adults Only,On the Water,Room Spa
Description
Pelicans at Denmark ("Pelicans")

The "Pelicans" brand is built on a pursuit of excellence in tourist accommodation in the Great Southern. We offer a range of accommodation – a romantic Cottage with two giant karris at the entrance, a unique modern Chalet surrounded by karris, and a family style Home all with water views - within 3 kilometres of town and a pleasant stroll through native bush along the banks of the Inlet and Denmark River.

Unique to the southern region of Western Australia, karri trees, described by an "amazed" Bill Bryson as "some of the mightiest trees on earth, of consummate and singular beauty" (p299 In a Sunburned Country), are an integral component of the "Pelicans" experience. The karri, which derives its name from the early Aboriginal inhabitants, is WA's tallest tree and one of the tallest hardwood trees in the world growing up to 80 metres during its average 300 year lifespan.

At "Pelicans" these majestic trees run to the Inlet edge, their tall canopy enveloping the Chalet and Cottage to create a truly unique and inviting setting. Guests are literally in the karri trees. Pelicans' Cottage (formerly Karri Cottage) sits among a stand of giant karri; a significant feature of which is a karri trunk within the central core of its octagonal design. The ship-lapped timber walls and flooring of the Cottage further reinforce the building's tree house feel.

Naming the business "Pelicans at Denmark" seemed natural as these captivating birds have made this section of the inlet home due to the abundance of fish provided by Derek, a licenced fisherman, located 200 metres along Inlet drive towards town.

With its' peak soaring approximately 9 metres above ground level, the Chalet captures the essence of these majestic trees as well as the sparkling Inlet water views. This unique accommodation affords guests the opportunity to experience the karri trees from multiple aspects in the comfort of a modern building created with couples in mind. There are very few locations in Western Australia where karri trees run to the water's edge as they do at "Pelicans".

With a focus on the Inlet, a further property was acquired in 2006 about 150 metres closer to town. This property has undergone extensive renovation and captures the "family market. Pelicans' House features a stunning garden with its own spring and orchard and was once voted Denmark's "Garden of the Year". The garden was the setting for a Denmark produced movie and over 47 species of birds were logged here by an enthusiastic guest over the course of a long weekend.

Pelicans' Chalet – Modern Comfort

Being at the luxury end of accommodation in Denmark, the Chalet appeals to honeymooners and couples seeking a romantic escape. Pelicans' Chalet provides for both short and long stay holiday makers and caters to self-sufficient guests as well as those seeking an indulgent getaway.

The chalet incorporates identical back to back bedrooms fitted with king size beds and spas so that when two couples travel together, each can enjoy the same superior amenity. Reverse cycle air-conditioning and a simulated fire place add to the comfort of guests.

The Chalet also features a modern fully equipped kitchen complete with a dishwasher, enabling tourists who wish to cook their own meals to do so. A Weber Q barbeque completes the cooking experience.

Pelicans' Cottage – Romantic Comfort

As an alternative to the modern Chalet, Pelicans' Cottage offers a unique getaway which is very popular with honeymooners and couples. Clad in ship lapped pine, the proprietors have focused on creating a serene experience for guests. The kitchen of the Cottage is equipped in the same manner as the Chalet. The wood fire pot belly is very popular with city guests, giving the property a warm and inviting feel that is particularly satisfying during winter stays. The property also hosts numerous other amenities including a queen bed and spa.

Pelicans' House – experience Denmark from the comforts of Home

For families the House offers beautiful gardens that wind down the block to a private jetty and access to the Inlet year round. There are over 17 fruit trees in the orchard that are fed year round by a natural spring. Licenced with the Shire, the House accommodates six people, has modern bathrooms and kitchen with full amenities including reverse cycle air-conditioning and a cosy log fire. All properties have direct Inlet frontage with jetty access appealing to tourists interested in water based activities like boating, fishing, kayaking and canoeing, as well as guests who enjoy a glass of wine surrounded by nature.

Without doubt it is the vista and secluded setting that makes the greatest impression on guests. This is the "wow factor" one experiences upon opening the entry door when first viewing the inlet and the trees on arrival into all three properties.

Feedback from the Visitor Books confirms the uniqueness of "Pelicans". Comments in these books (available for all guests to see and add their own contribution) are both complimentary and reassuring.

Our commitment to "truth in advertising" is a further undertaking to guests. All pictures used for marketing in brochures and websites were taken on location. This commitment not only reassures guests but is testament to our belief in what we have to offer.
Location