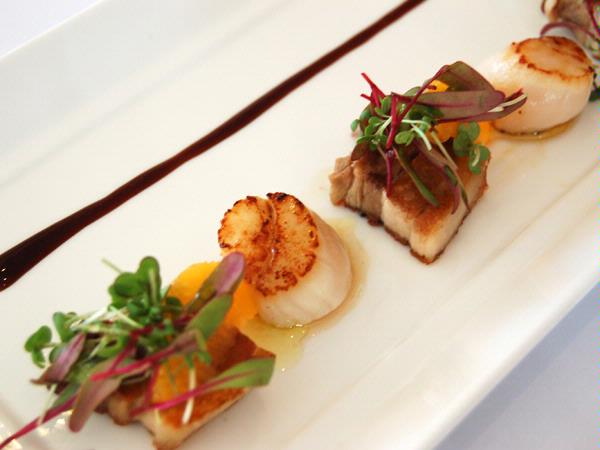 Stunning ocean views from the beautiful newly refurbished restaurant which is under new management. Great seasonal menu from renowned chef Steven Black, who is known for his light touch .
Facilities:Alfresco,Wheelchair Access,Catering,Function Venue,Takeaway,Licensed,Waterfront
Details
Facilities:Alfresco,Wheelchair Access,Catering,Function Venue,Takeaway,Licensed,Waterfront
Breakfast:Monday,Tuesday,Wednesday,Thursday,Friday,Saturday,Sunday,Public Holidays
Lunch:Monday,Tuesday,Wednesday,Thursday,Friday,Saturday,Sunday,Public Holidays
Dinner:Monday,Tuesday,Wednesday,Thursday,Friday,Saturday
Description
Stunning sunsets, beautiful ocean views from this beachside location. The restaurant has been refurbished this winter, with new flooring and décor. In the backroom there is now a feature angled mirror with sea view above the new banquette. This has given the restaurant an airy, but warm feeling. In the front there is a small bar area, as the restaurant is also licensed to serve alcohol without food.
In the hot Perth summers all the windows slide open to fully enjoy the weather and view. At breakfast the atmosphere is a casual affair with early morning swimmers coming off the beach and families enjoying one of the best breakfasts in Perth. Food is served all day, but in the evening the restaurant mood changes to a gentle candlelit ambience.

Alfresco

Bluewaters is lucky to have outside seating, which sweeps around the corner and catches the afternoon and early evening sun.

The Chef

Steven Black has been the head chef at Bluewaters since 2008 and has gradually transformed the menu into what it is today. Steven has worked at many internationally renowned restaurants in Europe; he also has a Michelin star to his name.
He had his own restaurant in the heart of Mayfair in London with his wife Merete, which gained
London restaurant of the year.

The Manager

Merete Black joined Bluewaters almost a year ago to work alongside her husband Steven again.
She was previously the manager at Star Anise for 2 years. Merete has also worked in some of Europe's best restaurants. She went to restaurant school in the heart of the German wine region for 3 years. She is now giving her training and vast knowledge to the staff at Bluewaters.

The Menu

The menu changes seasonally, with an emphasis on seafood in the summer. Steven sources the best ingredients from local producers. The food is light, fresh and flavorsome.
The extensive breakfast menu suits even the most discerning customer.
At lunch you can choose anything from a steak sandwich to a seafood platter.
The dinner menu is designed to unwind, watch the sunset and enjoy a bottle of wine, without being pretentious. Just good produce, cooked well, with service to match.

The Wine

The wine list at bluewaters has undergone a transformation. There is now a full page of delicious cocktails, large selection of sparkling wine and champagne. An interesting white and red wine list with many listed by the glass. Quite a few European wines, some famous aussie wines and some unknown local gems.

Functions

Bluewaters can cater for any function; sit down meal, canapé party, your wedding!
It can seat up to 16 on one long table, up to 34 in the back room and 70 in the whole restaurant.

Events

Throughout the year there are many special events, such as wine dinners (last year we had Picardy, Moss Wood, Willow Bridge, always with the winemakers present). Bluewaters also hosted champagne dinners, truffle and jazz nights.
Please email us to be on our mailing list for these events.

For Kids

The restaurant is child friendly with a special kids menu and colouring-in pencils/drawings.



garlic and parmesan bread 10
babaganoush with grilled ciabatta 12
sour dough with balsamic and olive oil
8
wild olives 5
spiced chorizo and beans with grilled ciabatta
12
confit salmon with cucumber, dill and radish salad
18
oven dried roma tomatoes with feta, rockette salad and balsamic reduction
14
slow cooked linley valley pork belly with shark bay prawns,
watermelon salad and chilli caramel
19
parma ham with peppered goat's cheese curd,
tomato salad, basil and garlic crisps
18
seared scallops with pumpkin and thyme risotto
22
plough person's plate; mafra cheddar, prosciutto, chorizo, pickles, ciabatta 19
marinated and grilled brochette of prawns with lemon and parsley quinoa salad 17
cous cous salad with almonds, sultanas and grilled free range mt barker chicken strips,
mint and yoghurt dressing
24
traditional caesar salad 19
with grilled shark bay prawns 27
with grilled free range mt barker rosemary chicken 24
marinated octopus on toast with cherry tomato and red onion salad 19
open free range mount barker chicken sandwich, cos lettuce, avocado,
tomato and crispy bacon
19
grilled harvey sirloin steak sandwich with caramelized onions, tomato and rockette
20
hoi sin marinated mt barker free range chicken breast
200g char-grilled fillet of black angus beef with sautéed mushrooms, caramelised onions,
mash potatoes, broccolini and red wine sauce
49
grilled shark bay prawns with chilli, tomato linguini and parmesan 36
spinach 8
sugar snap peas 9
rocket and parmesan salad
9

Dinner menu
nibbles
garlic and parmesan bread
10
sour dough with balsamic and olive oil
8
babaganoush with grilled ciabatta
12
entrées
seared scallops with pumpkin and thyme risotto
confit salmon with cucumber, dill and radish salad
oven dried roma tomatoes with feta, rockette salad and balsamic reduction
slow cooked linley valley pork belly with shark bay prawns,
watermelon salad and chilli caramel
parma ham with peppered goat's cheese curd,
tomato salad, basil and garlic crisps
mains
cone bay barramundi with warm potato salad,
zucchini, olives and salsa verde
margaret river grilled marron with a thai noodle salad and lime dressing
grilled shark bay prawns with chilli, tomato linguini and parmesan
hoi sin marinated mt barker free range chicken breast
with asian slaw
dorper lamb cutlets with scorched cherry tomatoes, sugar snap peas,
olives, feta and balsamic reduction
200g char-grilled fillet of black angus beef with sautéed mushrooms, caramelised onions, mash potatoes, broccolini and red wine sauce
sides
mash 9
spinach 8
chips and aioli 10
rocket and parmesan salad 9
sugar snap peas 9
Location