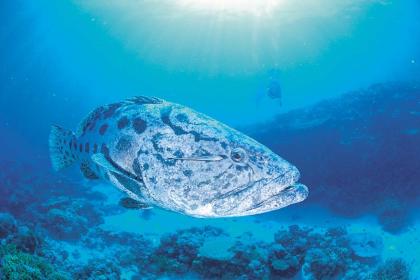 A day on a game fishing charter on the Ningaloo Reef is an experience of a lifetime – an exhilarating hunt unleashing repressed primal urges as man is pitted against beast.
Details
Description
Imagine the salty ocean air in your face, the sun blazing down from above and the scream of your reel as a giant marlin tears through the water. It's you against this mighty fish, a fight that has your muscles bulging, your adrenaline pumping and your fishing buddies egging you on with enthusiasm.
You don't need to be a fishing expert to enjoy the thrill of game fishing. Charter operators in both Coral Bay and Exmouth offer tours catering for everyone from children and beginner fishermen to women and experienced anglers. They also provide all the fishing tackle, bait and gear you'll need, as well as tips and probably a fishing tale or two as well. Several charter operators also offer the chance to drop a line to lure deep-sea fish species. This is the way to snag ocean favourites like emperor, snapper and groper.
Game fishing is a different story. For this you'll target marlin, wahoo, dolphin fish, tuna and sailfish. The charter operators promote a tag and release policy for many of the game fish species that ensures stocks of these magnificent creatures remain strong. It also has the added advantage of increasing your chances of snagging a fish yourself. The exception to this rule is finfish – fishermen and women can catch and keep the recommended bag limit.
Bernie Vale and Sandra Lymbery run Coral Bay Ocean Game Fishing and offer a mix of game and deep-sea fishing on their day charters. This allows charter goers to try their hand at game fishing without the higher cost. "We troll out to a fishing spot for about an hour and then bottom fish and then troll to the next place," Sandra says. "This way people who can't afford to go game fishing still get a chance."
Sandra says the thrill of fishing the expansive Ningaloo waters is hard to beat. "Up here people catch just about anything and everything," she says. "People say they've never experienced anything like the game fishing.
"It's the adrenaline, the excitement and everyone is all wound up – the whole boat is in on what's happening."
Up in Exmouth, Reel Teaser Charters' Tracey Newton agrees that it's the excitement that has people hooked. Reel Teaser offers heavy tackle game fishing as either day charters or live-aboard charters.
They take up to six fishermen, with just four lines in the water at one time. "It's a very exciting type of fishing," explains Tracey. "You're not just dropping a line to the bottom – you're watching the action take place."
Reel Teaser Charters and Coral Bay Ocean Game Fishing are just two of the charter fishing operators on Ningaloo Reef. Several other boats fish from Coral Bay and Exmouth at certain times of the year. Call the Exmouth Visitor Centre on 1800 287328 for more information.

What's Hot?
Novotel Ningaloo Resort: This stylish accommodation outlet has just opened on Sunrise Beach in Exmouth.
Hilton Coral Bay: This swish hotel is due to open in January, completely transforming the range of Coral Bay accommodation options.
Turtle Nesting: Watch this amazing spectacle of nature on tours from December to late January.
Whale Sharks: The world's largest fish come to Ningaloo between March and June each year. A swim with these gentle giants is a not-to-be-missed experience.
Location