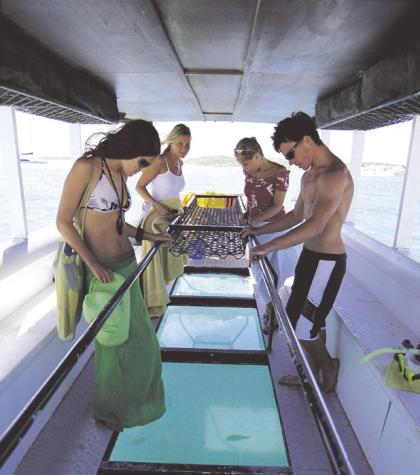 If you'd love to experience the wonders of Ningaloo Reef but would rather not get wet, consider a glass bottom boat tour.
Details
Description
You've no doubt heard about the wonderland of fish that live on Ningaloo Reef at Coral Bay. You're sure to have seen the dazzling colours of the reef, the intricate designs of the coral and the magical beauty of the fish in photographs. And it's a good bet you've thought how wonderful it would be to experience this enchanting underwater world for yourself.
But perhaps you have been daunted by the prospect of donning a scuba tank or of swimming in the deep waters.
If that's the case, consider a glass bottom boat tour. Three tour operators offer you the chance to experience the incredible beauty of Ningaloo waters without getting so much as leg wet.
From the safety and comfort of the boat's darkened interior, you'll glide over the corals and fish, totally captivated by their beauty.
You'll see sunlight streaming in from the surface above, lighting up fish in flashes of brilliant colour. And you'll see coral castles in an astounding array of shapes, colours and designs.
Even better, you'll have a trained guide to point out the more obscure wonders of the reef such as species like North-West snapper, flute mouth and turtles.
And the guide will tell you fascinating details about the fish – like the convict surgeon fish, which has barbs in the base of its tail that flick out as a defence, or the anemone fish that feeds and guards its anemone home in return for protection among the anemone's tentacles.
For those who are prepared to get wet, some of the glass bottom boat tours also offer an opportunity to snorkel in protected waters.
These snorkelling sessions are great for beginners looking to experience more of Ningaloo Reef's wonders.
You can use pool "noodles" or life jackets if you're a touch uncomfortable about swimming alone and staff are on hand to watch over you. All snorkelling gear is provided.
Each of the tour operators also gives you a chance to feed the fish.
They go to the same place every day so the fish know where to congregate, and you are allowed to throw fish pellets from the deck or the boat.
Within seconds the water becomes a writhing mass of fish and has changed to a silvery colour as North-West snapper come in to feed.
Children will be particularly delighted by the spectacle.
Glass bottom boat tours operate daily in the protected waters of Coral Bay and last about an hour (tours which include snorkelling take two hours).
You're welcome to bring along a camera or video to capture the experience.
For more information contact Coral Bay Adventures, which operates Sub Sea Explorer, on (08) 9942 5955, Coral Bay Charters, which operates Miss Coral Bay II, on (08) 9942 5932 or Coral Bay Eco Tours, which operates Nhanya-ku, on (08) 9942 5885.
Location