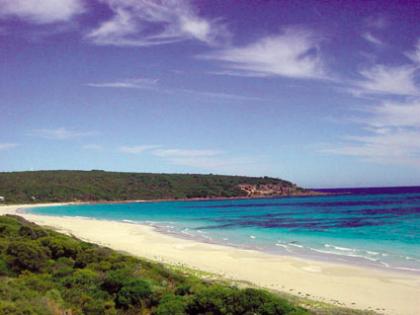 Take a hike in Cape Naturaliste, where you'll discover the South-West's most famous surf break, stunning wildflowers and may even spot a couple of humpback whales.
Details
Description

The Cape to Cape is a 135km track that stretches from the Cape Naturaliste lighthouse near Dunsborough, through the Leeuwin Naturaliste National Park and down to the Cape Leeuwin lighthouse near Augusta. Although the track mainly follows the coast, it also winds its way over cliffs, along pristine beaches and between giant karri trees, providing walkers with an array of natural and adventure-based attractions.

At the northern end around the Cape Naturaliste lighthouse you'll find a range of spectacular walks, both on the track and off. If you're heading south for a weekend or even a week, you can stay at some of the South-West's most luxurious and new properties and wake each morning to a different walk, ranging from half an hour through to a full day.

While all the walks in this area are spectacular, we particularly like the 3km track that leads from the lighthouse down to Sugar Loaf Rock. Although this is a downhill track, the gradient is easy, the walk is short and if you don't want to trek back up the hill to the lighthouse, there is a road that leads to the rock where you can arrange to be picked up. Located just offshore, this rock is the southern most breeding site for red-tailed tropic birds, and during winter and spring there's a chance you'll even spot whales from the lookout. The path is lined with stunning wildflowers and weaves through gentle coastal heath. Plans are currently in the pipeline to make the entire path wheelchair friendly. While still a long way from completion, the first stage of wheelchair access should be started by Christmas, thanks to a grant from Lotterywest. The path down to Sugar Loaf Rock is part of the Cape to Cape walk track.

For those looking for a longer and more challenging walk, continue along the cliff tops from Sugar Loaf Rock 3km to Three Bears – one of the area's most famous surf breaks. This spot is only accessible by 4WD, but Friends of the Cape to Cape Walk Track president Jane Scott recommends you walk back to Sugar Loaf rather than asking someone to negotiate the notorious 4WD trail. The trip from the lighthouse, past Sugar Loaf Rock, across to Three Bears and back is a 12km round trip, so don't forget to take water with you.

There are also some wonderful circuits around the lighthouse that aren't part of the Cape to Cape walk track, one of which leads 1km from the lighthouse down to a whale lookout platform. Located high on a cliff top, this lookout offers spectacular coastal views and interpretive information about the whales. These short circuit walks are well sign-posted at each junction. Jane tells us, "they're all a bit rough and ready, but easy," and for those looking for something more challenging, most of the short trails can be joined together to form a longer walk.

Guests staying at the new Quay West Bunker Bay Resort can literally step out of their room and onto a path that leads right up to the lighthouse. Although only about 2.5km in length, this walk is all uphill making it one of the most taxing in the area. On the plus side, the walk has some fantastic ocean views, which get better and better as you walk around the northern cliffs. If you plan on walking downhill back to the resort, the return trip will take around two hours. For those who are interested, you may like to time your walk so you reach the lighthouse at the start of one of the regular tours. Lighthouse tours run daily year round. For a timetable, call the Cape Naturaliste Tourism Centre on (08) 9755 3955.

Another pretty walk is the Meelup Trail, which runs from Eagle Bay down to Dunsborough. Contouring around the coast, this walk is fairly level and the section between Meelup and Castle Bay has wheelchair access. The walk is 6km and takes two hours one way.

For those looking to really push themselves, there's a one-way walk track from the lighthouse all the way down to Yallingup. This 15km walk takes about five hours and is definitely best suited to those with good fitness levels. Also, it's necessary to arrange for someone to meet you at the other end as you we're told that you won't make it there and back in one day. Some of the smaller B&Bs will come and pick you up, or alternatively you can book a taxi through the Dunsborough Taxi Service or get one of your non-walking travel companions to meet you. Again, water and appropriate clothing and footwear are essential.

Where to stay:
If it's total indulgence you and your walking buddies are after, take a peek at the brand new Bunker Bay Villas. Not to be confused with the new Bunker Bay Resort (which is also pretty special we might add), Bunker Bay Villas offers two luxurious, fully self-contained architecturally designed villas, perfect for adult groups looking to relax after a big day walking.

Each villa looks as if it's floating on top of the bush and there are spectacular views of Bunker Bay and the surrounding scrubland from each of the three bedrooms. In fact, you even get full ocean views from the bathrooms, one of which has a spa. The open living area has all the mod cons, such as a DVD player, CD player, TV, and a gas barbecue on a huge balcony – the perfect place to kick back with champagne and enjoy the view. Plus, there are more props in the kitchen than you can poke a stick at. For more information on Bunker Bay Villas, call (08) 9756 7337.

The five star Quay West Bunker Bay Resort is absolutely spectacular with studios, one, two and three bedroom villas available making it perfect for couples and families. Each room is luxuriously furnished, large and private. But what makes this resort so unique is that although it's set right on the coast at Bunker Bay, you can hardly see the resort from the beach.

The restaurant, the other side of the Moon, is the perfect place to indulge in a long, relaxing dinner and a couple of bottles of wine after a day spent walking. Alternatively, run a hot bath and order a gourmet pizza, a cheese plate and a couple of cocktails from the in-house menu and spend the night locked into your stunning room.

More information:
Friends of the Cape to Cape Walk Track was established six years ago to help maintain the track. They have a comprehensive website, which outlines all you'll need to know for a trek along the trail. Visit margaret-river-online.com.au/capetrack.

A detailed map of the track and guidebooks are available. These can be picked at CALM offices, at Mountain Designs and Mainpeak stores, at all major bookstores in Perth, and at all local Visitor Centres.


Location