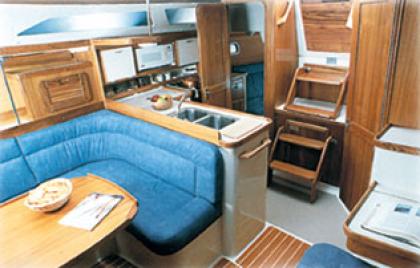 For a room with the best view in Busselton, climb aboard a luxury yacht and combine a laid-back weekend on the water with gaining internationally recognised sailing qualifications.
Details
Description
For some, the rising of the mercury and boating go hand in hand. As we head for another glorious summer, more yachties are loosening the ropes, raising the sails and heading out onto the water.

Unfortunately, not all of us owns our own yacht, or even knows how to sail, which is why heading to Busselton and chartering one is so attractive. Two companies offer travellers an opportunity to either charter overnight skippered trips aboard a luxury yacht or spend a weekend on board gaining basic sailing qualifications.

If you're interested in learning to sail, the Introduction to Sailing course can be completed in a day, although to turn the training into a holiday experience, WA Yacht Charters runs the course over two days, including an overnight stay on the boat. These weekend escapes combine practical and theoretical training with a little relaxation, including plenty of time allocated to eating, drinking, swimming, and kicking back on the bow with a bottle of sunscreen and a good book.

These trips leave from the Port Geographe Marina in Busselton and head out to Geographe Bay, then south past Dunsborough and Eagle Bay to Bunker Bay or up the coast to Bunbury. Geographe Bay is one of only a few north-facing bays in WA, meaning the waters are protected from strong south-westerly breezes and are extremely calm and perfect for learning to sail. In these parts you'll also find extraordinary snorkelling, particularly around the pylons under the famous Busselton Jetty. WA Yacht Charters' Introductory Weekend to Sailing caters comfortably to four adults.

After you've done the Introduction to Sailing course, you can go on to complete the Competent Crew course. While WA Yacht Charters runs this course over two days, South-West Yacht Charters runs theirs over three to four days, including accommodation each night on the boat. This is a great way to spend more time on and in the water with family and friends, plus you're getting more training and higher qualifications.

Once you've completed your training, you're qualified to bareboat charter a yacht from both companies (bareboat means without a paid skipper). In fact, those who continue with their training can hire a yacht almost anywhere in the world as long as the qualification is recognised by the Royal Yachting Association (the international association for yachting). The beauty of this is that anytime you feel like spending a weekend on the water with your family, you can do so without having to splash out on a boat of your own.

Both WA Yacht Charters and South-West Yacht Charters have excellent yachts available for charter. WA Yacht Charters' #Catalina 34 is tardis-like, with far more space than it initially seems. The deck is wide and in the cabin are two double bedrooms, a private toilet and wash area, a fully equipped kitchen, and a dining area, which also converts into a double bed if needed. South-West Yacht Charters' brand new boat #Sensei is better suited to larger groups. The Jeanneau Sun Odyssey 37 sleeps six people in private cabins, and the dining/saloon area is roomy and also converts into a double bed if necessary. There's a kitchen, a private bathroom and a sizeable entertainment area on the deck. Both yachts have CD players.

Finally, if learning to sail doesn't really interest you and you'd rather leave the ropes in someone else's hands, both companies offer skippered charters. These can be as short or as long as you'd like (obviously within reason) and include all fuel, bedding and staples like instant coffee, tea and milk. For something really special, gourmet platters, lunches and other catering can be organised at extra cost. Neither boat has a liquor license, so BYO is required. To cut on costs we recommend you take along your favourite champagne, gourmet nibblies, and the best ground coffee for the morning. Also important to remember are your bathers, towel, hat, sunscreen, white-soled shoes and a camera.
Location