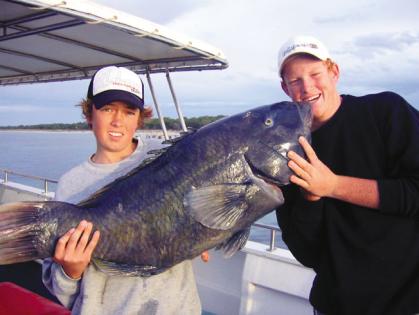 Whether you're a serious enthusiast or just keen to throw in a handline, the fishing scene in Busselton will keep everyone happy.
Details
Description
Holidays in Busselton can be spent in a variety of ways, but however you get there or wherever you stay, make sure you take some time out to relax and contemplate the world from the end of a fishing rod.

The iconic Busselton Jetty is the perfect spot to start your fishing adventures. Fishing from the jetty lets you nail two worthy excursions in one, and while fish and sunlight can be scarce from the end of winter through to the end of spring, you should find a window of opportunity when both fish and sun are behaving.

If you need any tackle or bait before heading to the jetty, Ocean to Outback, run by Rusty Ellis, is your one-stop destination. Rusty can even sort you out with camping seats if you really want to take it easy. Rusty's also the man to ask about where to go, what to take and what to catch. Don't forget that you will need to bring your own bucket and ideally a rag to get a grip on the fish when you pull them off your hook.

Your most likely catches these coming months are herring and squid, with the occasional bonito or samson fish making an appearance in late November. To catch the smaller fish, a small handline with simple hook and sinker works as well as anything. Or for those who prefer fishing with a rod, something around 7ft with a light spin for herring is perfect. With this set up you can use bait or herring rigs – one of the popular ones with locals being the jetty rig. This has a running float with a swivel stop and a leader of 2-3ft. The next step up is to use a number two kirby hook with a green herring tube. If you use this in a combination with burly, Rusty says it's "as good as using hand grenades".

If beach fishing is more your style, the best times to go are first thing as the sun's rising and just before or during sunset. From the beach you can catch whiting, herring and the occasional tailor. You'll need a bigger rod for beach fishing to get a bit more distance and to case beyond the waves, on the few occasions when Geographe Bay has waves. Dinghy's are popular and allows you to head out into the bay, where you'll find herring, whiting and the "fairy floss of the ocean", the lovely King George whiting.

If you've experienced the jetty and the beach and are keen to catch some bigger fish, you can always head out to sea with a fishing charter company. The charter companies will go further out to ocean, where you can expect to catch dhufish, pink snapper, baldchin groper – the whole mixed bag. Dunsborough Charters leave just 15kms south of Busselton and will take you out for a day's exploration. All you need to bring is a hat, lunch and drinks and all the rest is supplied. You keep what you catch, and as the tours only operate if weather permits, you don't need to worry about getting sick in a big swell or frustrated in big winds. Owner Ian David is the full bottle on where to go and when to catch the best fish, guaranteeing both fun and success.

Naturaliste Charters also run deep sea fishing tours from Busselton. During the spring months Naturaliste can organise a group booking on request, and all you'll need is your lunch, drinks and a hat. The fish you can expect to take home are dhufish, snapper and other deep sea beauties.

If you're on your own, it's important to fish responsibly and make sure that your fish is within the required size range. Charter companies will make sure all the catches you keep are of legal size. Free fish ruler stickers are available from most tackle shops, or you can call the Department of Fisheries for information. The rulers help ensure fish will be in our oceans and rivers for future generations. You can also visit fish.wa.gov.au for lots of information about fishing around the state.

Fishing for the future – pull out box
If you enjoy fishing, then you'll probably want to continue doing it for the rest of your life. In fact, we're pretty sure that your children and grandchildren will want to do the same. Overfishing and taking undersized fish is a serious problem that, if not addressed, will see our rivers and seas depleted of fish stocks.

Undersize fish can be checked against the free fish ruler that is given out at Department of Fisheries offices around the state and at some tackle shops. This great ruler shows the allowed length for various species caught and, as it's a sticker, you can whack it on the side of your bucket or on the back of your car so you've always got it with you.

Always check the daily bag limit for the fish you're catching before heading out and don't take more than is specified. Bag limits do change, so visit fish.wa.gov.au for current information.

Also check that you don't need a license to fish at your intended destination. Licenses can be for fresh or salt water, and for different species. Marron and crab have different limits and seasons and aretwo species that require licences. Catching these out of season, undersize or over limit can attract heavy fines.

People to talk to:
Ocean to Outback, 60 Kent St, (08) 9752 4044.
Dunsborough Charters, (08) 9752 2993 or 0419 244 804.
Naturaliste Charters, (08) 9755 2276.
Busselton Tourist Bureau, (08) 9752 1288.
Department of Fisheries, (08) 9482 7333.
Location