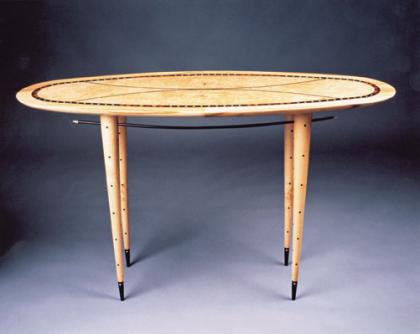 With sandy beaches, a rugged coastline, bubbling brooks and magnificent forests it's not surprising the Margaret River region has attracted talented wood turners and furniture makers.
Details
Description
Lured by the appeal of world-class home-grown timber at their fingertips, artisans from around the globe have flocked to the Margaret River region setting up a host of studios and galleries displaying their well-crafted wood pieces.
Check out the work of award-winning local artists Greg and Brendon Collins at their studio on Samworth Street, Margaret River. Their contemporary jewellery, artworks and furniture in native and exotic timbers are fit for royalty (and clientele include the Crown Prince of Belgium, Prime Minister of Japan and Oxford University). The gallery is open Monday to Friday from 9am to 5pm, and from Saturday to Sunday from 10am to 5pm. Call (08) 9757 2761.

At Wood Be Good in Yallingup, wood turner Brendan Booth exposes the beauty of WA jarrah and hardwoods creating small carvings to large corporate entrance statements. His work graces homes in Norway, America, England and Japan. Open from 9am to 5pm, you can visit the gallery daily. Call ahead on (08) 9755 2154, or visit woodbegood.com.au.

Craftsman Alastair Allan of Hamelin Bay Furniture specialises in custom-made contemporary pieces fashioned from the South West's timbers. Pieces include fine furniture, boardroom tables and beds. Hamelin Bay Furniture is open from Monday to Saturday from 10am to 5pm, (08) 9758 5008.

In the main street of Margaret River is Jah Roc Gallery with a plethora of prestigious furniture industry awards to its name. Contemporary furniture designers Gary Bennett and his wife Lara recently expanded the gallery and also exhibit the work of well-known Australian craftspeople. Open daily, you can pop into the gallery between 10am and 5pm. Call (08) 9758 7200 or visit jahroc.com.au for more information.

Also in the town centre is Laroche Lifestyle Gallery, a colourful interior/exterior design gallery that's edgy and modern. Set in a renovated original Margaret River home, art images, garden mosaics, handmade chocolates and handbags are displayed among recycled teak tables and Italian designed furniture. Laroche is open daily from 9.30am to 5pm. Call (08) 9758 7223 or visit larochelifestyle.com.au.

Margaret River Galleries on Bussell Highway is a contemporary gallery showing work by established and emerging artists and a heady mix of fine art, sculpture, ceramics and fine furniture. Well worth a look on your way in or out of Margaret River, you can visit the gallery daily between 9.30am and 5pm. Call ahead on (08) 9757 2729, or visit margaretriverart.com for more information.

Yallingup Galleries, the first gallery to open in the South West (the workshop is an old dairy), is situated in a natural bush setting on scenic Caves Road. Apart from Rob Malcolm's work – 25 years building furniture from South West hardwoods speaks for itself – there's also a wide range of work from recognised Australian artists. Yallingup Galleries is open daily from 10am-5pm. Call (08) 9755 2372 or visit yallingupgalleries.com.au

Nestled in karri forest off Caves Road, Boranup Gallery houses WA timber furniture, art, glass jewellery and ceramics under one roof. Beautiful jarrah and marri furniture designed by James Howieson is crafted on site, including coffee tables, wine racks and island benches. Open daily, you can pop into Boranup Gallery between 9.30am and 5pm. Call (08) 9757 7585 or visit boranupgallery.com.

Witness artist John Streater work his magic crafting contemporary marri and jarrah furniture in his workshop adjoining the John Streater Gallery in Yallingup. John's gallery is open from Monday to Saturday from 10am to 4pm, and by appointment only on Sundays.

Just south of Yallingup, award-winning Gunyulgup Galleries overlooks a tranquil lake and features the work of more than 120 artists and craftsmen including paintings, prints, sculpture, ceramics, jewellery and a sprinkling of furniture. Feast your eyes and stop for a coffee at Lamont's restaurant next door. Gunyulgup is open daily from 10am to 5pm. Call (08) 9755 2258 or visit gunyulgupgalleries.com.au.

What's hot?
• Zip around Margaret River on a brand new scooter – a 50cc Bolwell Red Devil no less – from Margaret River Style. Hire rates start from $25, call (08) 9757 9567.
• Sip a steaming hot chocolate and soak up views of Flinders Bay from the deck of the newly renovated Lighthouse Keeper's Cottage. The recently upgraded lighthouse precinct includes a new visitor centre and retail shop. Open daily, 9am-5pm, (08) 9758 0905.
• Relish The Experience is a new Italian restaurant opened by award-winning restaurateurs Franco and Lella Gimelli on Bussell Highway, Margaret River, (08) 9758 8443.
• Blue Spirit Surf and Adventures offers action-packed weekends of surfing, kayaking, abseiling, massage, meditation and winery tours Call (08) 9757 9284 or visit bluespiritretreats.com.au.
Location