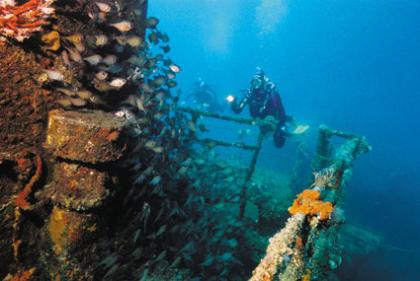 With an extensive coastline, Australia's South West is a paradise for divers and snorkellers, and abundant marine life can be viewed, often in turquoise water. Shipwreck dives provide another outlet for the adventurous.
Details
Description
The Lena, Bunbury
The Lena dive wreck sits in 18 metres of clear water 5 kilometres off Bunbury. She was scuttled in December 2003 and thanks to the warm Leeuwin current is already showing significant marine growth. The Lena makes a unique dive as she has massive swim throughs, an open engine room, with motors still in situ, and plenty to see.

The Lena has a fascinating past on the wrong side of the law. After being spotted illegally fishing for patagonian toothfish, her crew led customs officials on a chase through the freezing waters of the Southern Ocean, near Heard Island. After trying to elude the authorities by changing the Lena's name to 'Anna' (still painted on her side) the crew was finally captured and the Lena confiscated.

The Perth, Albany
The decommissioned HMAS Perth was scuttled in the pristine waters of King Georges Sound, Albany, in November 2001. The Perth is a 133 metre long guided missile destroyer with a distinguished service record. She encountered enemy fire during the Vietnam war and her scars from this battle can be seen by divers on the interpretive dive trail.

The Swan, Dunsborough

The former destroyer HMAS Swan was scuttled to form a dive wreck and artificial reef in Geographe Bay, near Dunsborough, in December 1997. The tower of the vessel is just 6 metres below the service with her base at 31 metres. The Swan has a minor list to her left side making her an interesting ship wreck to dive on. The Swan is now covered with an abundance of marine life and is rapidly becoming a bountiful artificial reef with a variety of fish calling her home.
Location