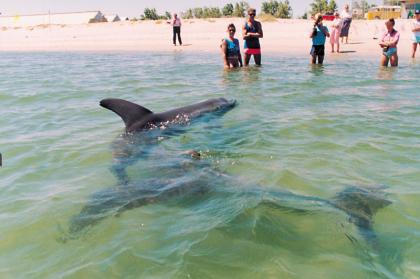 Bunbury may be one of the biggest cities in the South-West, but that doesn't mean you can't take a walk on the wild side while you're there.
Details
Description
Big Swamp Wildlife Park
The Big Swamp Wildlife Park is just a few minutes' drive from Bunbury's CBD, so if it's been awhile between safaris, head over to Prince Phillip Drive where you'll find an abundance of native animals. Big Swamp has been operating for 20 years and is home to wallabies, kangaroos, wombats, ducks, swans, parrots, owls and several varieties of waterbirds and raptor birds. Many of the birds can be viewed close-up in the large free-flight aviary, where you can walk through and enjoy an interactive experience – if you're lucky, some of the friendlier birds might even land on you.
The established grounds, which span four hectares, are landscaped, with many established trees and plenty of cool, shady spots in which to relax. At the entrance there's an interpretive centre, where you can collect a map that not only guides you through the area but also provides information on the various animals. People are invited to bring their own picnic lunch, or there's a kiosk on site serving light lunches, cool drinks and animal feed. There are plenty of barbeques in the park, with some located adjacent to a new children's playground, perfect for burning off extra energy. Enjoying lunch at the park has the added bonus of the company of inquisitive kangaroos that often visit as you nosh.
The park is open every day except Good Friday and Christmas Day. Opening hours are 10am until 5pm and entry costs $5.20 for adults, $4.10 for pensioners and $3.10 for children (children under two years are admitted free). It's advisable to take along a hat, camera and sunscreen. Big Swamp Wildlife Park, (08) 9721 8380.
Big Swamp Wetlands
Opposite Big Swamp Wildlife Park is the Big Swamp Wetlands, a man-made wetland area where a large variety of water birds live, including spoonbills, musk ducks, hoary headed grebes, great crested grebes and purple swamp hens. Many birds breed here and the bird hides situated around the boardwalk make for good observation points. There aren't many spots in this area where you can see musk ducks and grebes up close, so take advantage of this while you're there and try to spot a couple. A walk around the wetlands is 2.5km long for those looking for a light stroll, and bike riding is also permitted along the walkways. The wetlands opened around the same time as Big Swamp Wildlife Park and have been enjoying more development in recent years. There is a wetlands information brochure available from the interpretive centre at Big Swamp Wildlife Park.
Dolphin Discovery Centre
If you find that you'd like to see more water-based wildlife, head over to the Dolphin Discovery Centre on Koombana Drive. The Centre is the only site in Australia that offers shore and boat-based interaction with wild dolphins, as well as tours and an interpretive centre. The centre gives everyone a great opportunity to learn more about the Koombana Bay dolphins and also has a large section on WA's endangered loggerhead turtle. Put some of your newfound knowledge into action at the beach interaction area where you may be lucky enough to be visited by one of the locals. The dolphins mostly visit in the morning and are more regular during the warmer months. Volunteers coordinate your visit, and will ask you to stand single-file in waist-deep water, so the dolphins don't feel threatened and can comfortably swim around you.
Swim tours operate from October 15th to April 30th, with tours in departing at 7:30am. The tour allows you to swim with the wild dolphins and is supposed to be an experience not to be missed. The cost of the tour includes entry to the Discovery and Interpretive Centre, Interaction Zone, instruction, equipment (mask, snorkel, fins and wetsuit), and light refreshments. If you have your own equipment, you're welcome to use it.
Costs for the swim tour are as follows:
Adults: $149.00
Children (6-14yrs): $149.00
Observer - Adult: $85.00
Observer - Child/Conc: $65.00
If you're visiting outside these months or just don't fancy a dip, the dolphin Eco Cruise, is another great option that will allow you to get close to the dolphins. You can't always be guaranteed to see a dolphin, but your chances are extremely good. This tour operates from October - May at 11am and June - September at 11am on Saturday and Sunday only. Adults cost $49, children aged 4 to 14 years cost $35, concessions cost $40, Family cost (2 Adults+2 Children aged 4-14yrs) $150.
Entry to the Dolphin Discovery Centre is $10 for adults, $5 for concession cardholders and children, and $25 for a family (2 Adults and 2 Children). The centre is open daily from 8am to 4pm (October to May) and 9am to 2pm (June to September). There is a cafe on site, which serves breakfast, light meals and snacks including ice creams and cakes.
For more information visit http://www.dolphindiscovery.com.au.
Location