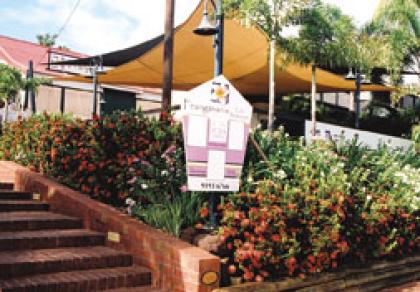 It's not just the coming months that are hot in Broome. The kitchens are also sizzling, so we asked four local chefs to recommend a favourite dish off their sultry wet-season menus.
Details
Description
Nick Wendland Aarli Bar
Triple Tail
Spend an evening at Aarli Bar and you'll be dining among lush tropical gardens. Aarli is the Aboriginal Bardi word for fish, so along with a tempting selection of Spanish-style tapas and wood-fired pizzas, the bar specialises in mouth-watering seafood dishes. Aarli Bar's head chef Nick Wendland recommends his favourite fish dish, Triple Tail. Marinated in coriander peanut pesto and served with rice and bok choy, the moist fish, caught locally off the Kimberley coast, is cooked in the wood-fired oven and served whole as a plate to share among the whole table. No need to worry about going hungry, the size of the fish depends on the size of the group dining. To accompany this succulent and tasty plate, Nick recommends a crisp 2004 semillon sauvignon blanc.

Andrew Radford Frangipanis
Lamb Rack
Frangipanis' head chef and owner Andrew Radford says the cuisine served in his restaurant is based loosely on Mediterranean-style and modern Australian food. For meat-lovers, Andrew recommends the herb-crusted lamb rack, made mostly with local produce. Sealed in the pan and finished in the oven, the lamb is coated in a mixture of rosemary, oregano and thyme blended with butter and breadcrumbs to form a delicious moist crust. Accompanying the lamb is a mint jus made from lamb and beef bone stock, and mint. The dish is served with traditional oven roasted potatoes, pumpkin, string beans and asparagus. Andrew suggests a glass or two of the Tim Crawford Sauvignon Blanc from their wine list to complement the dish's strong meat flavour.

Martin Meakins Blooms Cafe
Moroccan Chicken
If you're after a relaxing and casual night out, head to Blooms Cafe where you can treat yourself to a delicious array of tastes from around the world. Head chef Martin Meakins suggests trying the Moroccan chicken for a satisfying taste of North African-style cooking. Marinated in a mix of Moroccan spices, the chicken is shallow egg-fried and served with a spicy tomato sauce for a crisp and tangy flavour. Accompanying the Moroccan-style dish is a side of orange-scented couscous and baba ganouj, which is sure to make you feel as though you've just been to the African city and back. Martin recommends the Cape Naturaliste 2004 Semillion Sauvignon Blanc to accompany this exotic dish.

Melina Walker Henry's Cafe
Chicken Mignon
Open seven days a week, Henry's Cafe serves a bit of everything, from sandwiches to gourmet dishes. The cafe is situated in the main street of town, and has a busy and exciting atmosphere, which makes it popular with locals and travellers to Broome. Head chef Melina Walker recommends dinners sample her famous chicken mignon. The tender chicken breast is stuffed with cheese and mushrooms and then wrapped in bacon. The dish is served with seasonal vegetables and a side of creamy mash, which we're sure will leave you satisfied and wanting to return. The cafe is BYO, however to accompany this dish Melina recommends a classic Western Australian dry white.
Location