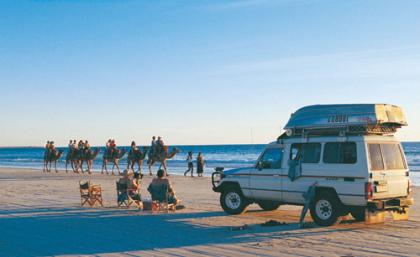 For a truly unique experience, go camel riding over the beautiful white sands of Cable Beach by tropical waters - and only a short walk to the Moon. Cable Beach is often regarded as one of the finest beaches in the world, and it's not hard to see why.
Details
Description
They say that the sunset at Cable Beach is one of the most magnificent you can see in the world. The blazing red orb of the sun sets the sky alight as it sinks below the boundless horizon of the Indian Ocean.
It certainly keeps travellers coming back time and time again.
It's not just the sunsets - everything about Broome is vast and untamed. There's the massive expanse of beach - all twenty-two kilometres of it. Then the warm tropical waters that stretch out beyond the grasp of human vision.
And then there's the world's biggest staircase. When the conditions are just right, the moonlight plays over the ocean waves in a pattern that looks just like a set of stairs. It looks like you could walk all the way to the Moon.
It's called - unsurprisingly - the Staircase to the Moon, and like Broome's burning sunsets, it's one of the unique things about the town that keeps you coming back time and time again.
Location