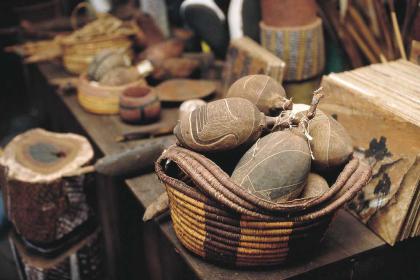 The Kimberley is renowned for its quality Aboriginal Art and this is truly demonstrated by some of the incredible work coming through the galleries in Broome. There are at least five galleries where you can buy traditional, authentic art works and the range is nothing short of stunning.
Details
Description
Short Street Gallery is located in the heart of Chinatown in Broome and was established by Emily Rohr in 1998. She works closely with many artists and is considered one of the foremost experts in her field. Credited with discovering and promoting the Yulparija artists from Bidydanga, Emily has a comprehensive collection of indigenous contemporary artworks from all over Australia including Roy Wiggan, Lily Karadada, Boxer Milner, Tjumpo, Tim Cook, Paji Honeychild, Daisy Andrews, Freddie Timms, Paddy Bedford, Patrick Mung Mung, Fiona Omeenyo, Freda Warlapinini, and many more.
The gallery seeks to educate visitors and show the stylistic diversity of the different cultures, which exist in the Kimberley and across Australia. From the saltwater people to the freshwater people and the desert people, Short Street offers a glimpse of the extremely sophisticated dynamic landscape of Australian art. It offers works of acrylic on canvas, 3D sculptures and pearl shell carvings and stages exhibitions every month.
Right next door is Belinda Carrigan's Gecko Gallery, an open and spacious showroom that focuses on high quality Aboriginal art from the East Kimberley, Central and Western Deserts and Melville Island. Gecko features emerging artists and its program represents a broad range of contemporary art and fine craft that includes paintings, printmaking, glass objects, carved boab nuts and weaving.
Belinda Carrigan previously managed the Holmes a Court art collection and has been operating the gallery for a year. She is a member of the Art Gallery Board of WA and is a qualified valuer of the Federal Government's Cultural Gifts Program.
The next exhibition is on April 15 and features artists from the East Kimberley. In May she will showcase work from the Munipi Arts Centre from the Northern Territory.
At the other end of Chinatown is The Old Broome Lock Up operated by Paul Boon. Originally established as a jail in 1895, it was used until the 1950s and then renovated in 1994. It houses an extensive collection of didgeridoos priced from $200 to $2000 and features 3D work such as carved boab nuts by Bonny Sampi and carved pearl shell by Bruce Wiggins.
One if its featured artists is Clifton Bieundurry. At 34 he has only been painting for a year but is already producing award-winning pieces and won the Indigenous category at the 2005 Shinju Art Awards. His work is colourful and makes use of traditional dot style techniques. While not Aboriginal, the gallery's other artist Yute Bannattee produces some breathtaking and incredibly lifelike portraits of Aboriginal people that would make a brilliant centerpiece in any home.
What the Old Broome Lock Up lacks in space it makes up it character. It offers didgeridoo lessons and is the headquarters of band Groovy Lips and the Yang, of which Clifton Bieundurry just happens to be the lead singer.
Not yet three years old, the popular Broome 6 Gallery has become a feature gallery for the famous work of the Wandjina tradition from the people of Mowanjum Community (near Derby). Visually striking, the Wandjina is believed to be a creator being of the Dreaming and depictions are traditionally found in many rock art sites in caves and rock shelters throughout the Kimberley
Broome 6 Gallery staged a hugely successful Wandjina exhibition in 2005 featuring eight artists at which all works were sold. It will hold The Spirit of the Wandjina exhibition in September featuring works by Donny Woolagoodja, the artist featured at the Sydney Olympics.
Djugun Tribal Creations could be considered a best-kept secret. Tucked away in the light industrial area of Clementson Street, this non-profit gallery features work from an astounding 22 artists including award winners Miguel Castillon and Sue Poelina. Its corrugated iron entry reveals a spacious and well-presented gallery with an excellent range of ceramics made on site.
Djugun provides training and support to emerging artists. It offers free daily tours where visitors have the opportunity to meet artists and enjoy a cultural exchange while viewing works that include hand thrown pottery, sculptures, carved feature tiles and paintings.

Where to go:
Short Street Gallery, 7 Short Street, (08) 9192 2658, shortstgallery.com.au.
Gecko Gallery, 9 Short Street, (08) 9192 8909, geckogallery.com.au.
The Old Broome Lock Up Gallery, 22 Carnarvon Street, (08) 9193 5633, groovylips.com.
Broome 6 Gallery, 20 Hamersley Street. (08) 9193 5255, thebroome6gallery.com.au.
Djugun Tribal Creations, 4/30 Clementson Street, (08) 9192 1021.
Location