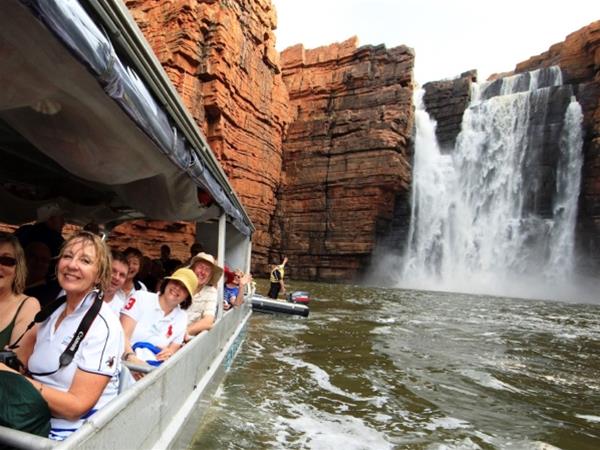 Coral Princess Cruises - Kimberley Expeditions
Join us on award-winning 10 night cruises to discover Australia's ancient outback on an expedition to the remarkable Kimberley region.
Open days/Times:Tours available from June to October
Tour Duration:10 Nights
Tour Price:From $8,290
Type:Tours
Details
Tour Locations:Broome to Darwin
Type:Tours
Description
Coral Princess Cruises are proud to be Australia's longest established extended cruise operator. They pioneered the concept of small ship expedition style cruising. Coral Princess Cruises offer 10-night expedition cruises between Darwin and Broome. You have the choice of 2 vessels, Oceanic Discoverer the new expedition vessel with a maximum of 72 guests or Coral Princess with a maximum of 48 guests.
There's simply no better way to discover the Kimberley than by small ship, allowing you to access all of the icons of the coast that are inaccessible by road. And, there's no better way than with Coral Princess Cruises, the pioneer and acknowledged leader in Kimberley expedition cruising. Join us and discover the Coral Princess difference for yourself. Our itineraries have been refined over 20 years to offer the most comprehensive program available, featuring all of the Kimberley's remarkable icons. Throughout your expedition our all-Australian staff and expert team of Guest Lecturers will impart a wealth of knowledge covering the region's landscapes, history and culture – insights that only true local knowledge can deliver. And, when you discover the Kimberley with Coral Princess Cruises you won't be required to visit a foreign port during your cruise – a regulation applying to our foreign-owned competitors – ensuring you make the most of every minute discovering the wonders of the Kimberley.
Covering more than 400,000 square kilometres (an area three times larger than England) and home to a sparse population of just 30,000 residents, the Kimberley region of North West Australia is a place universally acknowledged as one of the world's last – and possibly most beautiful – wilderness areas.
Head Office Contact Address:
Coral Princess Cruises
24 Redden Street
Cairns, QLD, 4870, Australia
Telephone: +61 7 4040 9999
Email: [email protected]
Location
Address: Head Office: 24 Redden St, Cairns,Darwin,WA,4870
Phone: 07 4040 9999
Email: [email protected]