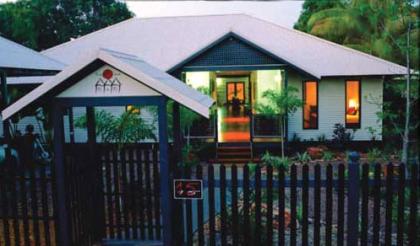 Slow Down - Unwind - Appreciate - Experience the essence of a lifestyle in the tropics at BroomeTown Bed and Breakfast.BroomeTown B&B has been built with your complete enjoyment in mind.
Details
Description
More than just a Bed and Breakfast, this beautifully designed retreat caters for couples looking for the best in tropical accommodation.
Perfectly located, within 5 minutes walk to 'Chinatown', enjoy a variety of alfresco restaurants, pearl shopping, art galleries and tourist attractions all close by.
Your hosts Toni & Richard Bourne have lived in Broome for 12 years and have personally designed and built this special Bed & Breakfast.
Relax by the pool, read in the open air guest lounge or enjoy your luxury suite while you absorb the ambience of this unique town.
With generous spaces and attention to comfort and quality this is the perfect choice for the holiday visitor or business traveller.
The bedrooms have a choice of deluxe Queen beds or King twin singles, accommodating up to two people in each room. Enjoy five star quality linen and cushions with a choice of pillows to complete the perfect night sleep.
Luxurious bathrobes, large fluffy white towels and quality toiletries compliment the generous sized ensuites that include a separate toilet for your convenience.
Unwind and appreciate this unique Kimberley town from the comfort of this retreat situated close to Chinatown and a short walk to many attractions. Enjoy warm hospitality, friendly service and touring advice in the appealing atmosphere of BroomeTown.
Location