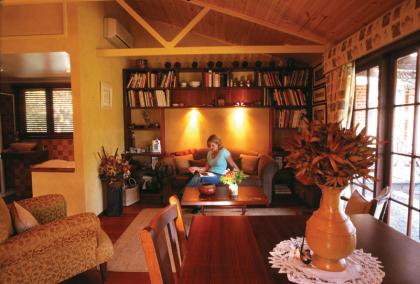 Hot pancakes with fresh berry sauce, scones with lashings of double cream and some of the largest, country-style meals in the South-West are on the menu in Bridgetown.
Details
Description
If you're in Bridgetown and are craving a super-sized, country-style meal, pull over at Beadelicious Cafe and Beadery. Open for breakfast and lunch, owner Alida Cubbage says that diners "roll out the door" after eating her homemade pancakes with berry sauce or one of the cafe's gourmet sandwiches made with fresh Balingup bread. In fact, as much gourmet produce as possible is used here, so even a garden salad is served with artichoke, olives, fetta and sundried tomatoes. Attached to the cafe, which has only been open for three months, is a beadery where Alida sells her hand-made beaded jewellery and a selection of sterling silver pieces. Alida also makes formal and casual jewellery to order and sells individual beads. Beadelicious is open from 7am to 5pm, although they will open earlier and stay open later by appointment.

If something a little simpler takes your fancy, you can't go past Humbugs Cafe and Bistro's own-made pies, pasties and sausage rolls. We're told that Humbugs is also the place to go for excellent coffee and that it serves a mean cooked breakfast with the works. Open daily (except Wednesday) for breakfast, lunch and afternoon tea, the food here isn't fancy but the serves are massive and it's mostly made on the premises.

Another unique eatery is Bridgetown Pottery-Restaurant, where guests are seated in a gallery featuring local pottery, photography, stoneware and more. Visitors have been popping into this family-owned business for the past 18 years, mainly for the own-made pumpkin soup, scones and Devonshire tea, although the rest of the country-style fare on offer is supposed to be pretty good too. We're told by owner Pip Mills that it's the restaurant's own jam, made from Quince jelly, fresh mulberries and strawberry conserve and served with King Island double cream, that makes the scones so good. The restaurant is open daily from 10am to 5pm for breakfast, lunch and snacks.

If you're in Bridgetown for the weekend, one of the most idyllic places to enjoy a light lunch or Devonshire tea is Riverwood House. Located just out of town, this B&B has half a dozen tables on the verandah, each overlooking the Blackwood River. The lunch menu features good, country-style fare such as spinach and fetta pie and lasagne, but it's the scones, cakes and coffee that are really popular with morning and late afternoon visitors. Riverwood House is open Saturday and Sunday from 8am until around 4pm.

1896 Cafe operates out of a heritage-listed building (built in the year of its name) and is unique for its Thursday night all-you-can-eat buffet pasta and curry nights. If you're not lucky enough to be passing by on a Thursday, the cafe is also open daily until 11am for breakfast, which is most popular for its BLTC's – a delicious bacon, lettuce, tomato and chilli jam Vienna bread sandwich. An a la carte menu operates on Friday and Saturday nights, offering everything from daily fish specials and crayfish to lamb. The lunch menu features light meals and sandwiches.

For something a little more formal, make a dinner reservation at Bridgetown's only licensed restaurant, Nelsons of Bridgetown. Here, the a la carte menu is full of mouth watering entrees, mains and deserts. While the menu changes seasonally, we like the sound of the house-smoked chicken served on a Greek salad and finished with eggplant and cashew nut salsa for starters, followed by the Boyup Brook Ragout served in a Yorkshire pudding case with winter greens. We're also told the lamb shanks "walk out the door". Better suited to couples and adult groups, Nelson's is a great place to host a Murder Mystery party. Nelsons is also open for full buffet breakfasts and lunch, seven days a week.

Another great a la carte restaurant that's open for dinner Thursday to Monday is Bygone Days. Owners Brett and Cindy Barrie serve large portions and the menu features everything from penne and prawns to the popular Madras curry. Fussy diners are also accommodated – if you don't like onion, you don't have to have it! Their restaurant is located in a 114-year-old house and has a very eclectic, antique feel about it. The tables are even lit by traditional oil burners. Families are welcome, as are private functions. Bygone Days opens at 6pm and stays open until late.

Although they're only open by appointment, for a really special dinner call Ford House. With notice, owners Ken and Jenny Rotman will prepare a three-course candle-lit meal based on your dietary likes and dislikes. Served in the Tongue and Groove Cafe, the atmosphere is truly romantic, the food is sophisticated and the portions are rather large. Also happening at Ford House is the annual Christmas Under Wraps weekend, which is three days of shopping, eating, drinking and gift-wrapping workshops. Designed to give guests creative gift-wrapping ideas and kick-start their Christmas shopping, the Christmas Under Wraps weekends book out weeks in advance.

Finally, if it's a quick take-away fix you're craving, grab a pizza from Bridgetown Dial-A-Pizza, where you can also pick up some fish and chips, burgers and other fast food favourites. Dial-A-Pizza opens at 5pm and stays open late for business.

Call ahead:
Riverwood House, Lot 887 Muir Street, (08) 9761 1862.
1896 Cafe, 151 Hampton Street, (08) 9761 1699.
Nelsons of Bridgetown, 38 Hampton Street, (08) 9761 1641.
Bridgetown Pottery-Restaurant, 81 Hampton Street, (08) 9761 1038.
Ford House, Eedle Terrace, (08) 9761 1816.
Humbugs Cafe & Bistro, Unit 3/86 Hampton Street, (08) 9761 2467.
Beadelicious Cafe and Beadery, 120 Hampton Street, (08) 9761 4199.
Bridgetown Dial-A-Pizza, 8 Steere Street, (08) 9761 4444.
Bygone Days, 75 Hampton Street, (08) 9761 2221.
Location