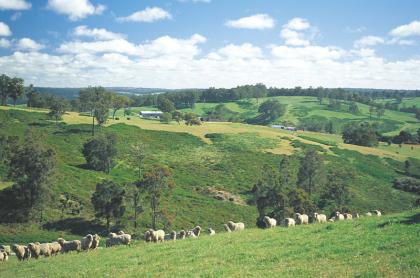 From the banks of the Blackwood River to the forest tracks and trails, Bridgetown is a great place to spot exotic bush and water birds.
Details
Description
Many small bush birds live in Bridgetown's dry sclerophyll forest, characterised by impressive jarrah trees, banksia, red gum and hard gravelly soil. While bush birds are not always the most colourful, they are highly active and easy to spot. Some of the most common include Red Winged Wrens, White Breasted and Scarlet Robins, the unusual Spotted Pardalote, Yellow Rump Thorn Bills, Rainbow Bee Eaters, Golden Whistlers, Firetail Finches and Honeyeaters.

As well as providing a great breeding ground for bush birds, Bridgetown has many wetland areas, home to White Faced Heron, Egrets, the nocturnal Nankeen Night Heron, Spoonbills, and numerous other waterbirds. While there isn't a dedicated bird watching tour in Bridgetown, there are some great places to head if you're interested in checking out the bird life on your own.

One of the best places to check out the bush bird life is Tortoiseshell Farm. This intimate farm stay is a popular haunt for the area's iconic Splendid Fairy Wren (or Blue Wren, as it is commonly known). The plumage of the male Splendid Fairy Wren is an iridescent cobalt blue and one of the most striking in the Southern Forest, and when breeding they're even brighter than normal. Although they are reasonably common in the area, their numbers have been diminishing over the years.

Owners of Tortoiseshell Farm Sheila Howat and Sean Grant have set up regularly visited feeders not far from the veranda so you can sit back with your coffee and watch the birds. They also offer wildlife spotlight tours, stargazing, a library, and are pet friendly. Sheila and Sean happily offer guests bird watching books and binoculars. Just make sure you ring in advance if you were hoping to pop in for the day.

If you're all bush birded out, Windy Hollow is a farm stay 6km east of Bridgetown with plenty of water birds on the property. Situated on 400 acres of farmland, the man made dam was built to accommodate a rising water table but has since attracted over 65 species of waterbirds. The dam is overlooked by the newly extended guest treehouse, which is perfect for those who like to relax in luxury. If you're travelling with the children, owners Pam and Jim Taylor are happy for you to use their maze and tennis court. Again, if you're only planning on spending the day remember to call in advance.

Another great bird spotting location is Wren's Hollow, which is a nursery on the banks of the Blackwood River. Owner Dan Barker is the resident bird watching expert and having run tours in the past, Don is familiar with most of the species in the area and can help anyone needing a little bird watching advice. His property is a great place to sit and spot waterbirds on the river, so make sure you pop in for a chat.
Location