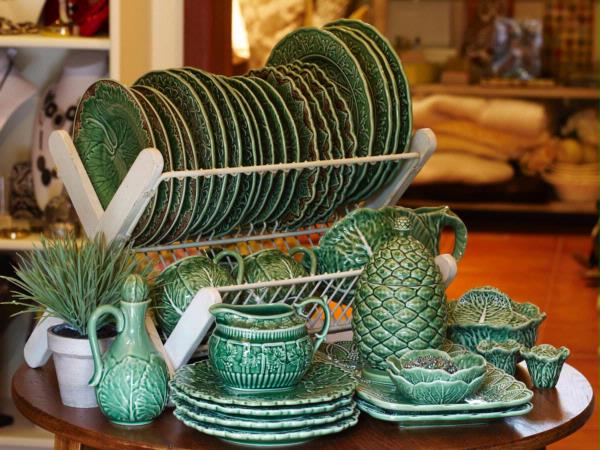 Wag Walters at Ford House
In five rooms, including a 100yr old barn, WAGs has every conceivable homewares and gifts in a garden setting at historic Ford House – quilts, crockery, handmade, lamps and much more.
Details
Type:Giftware,Homewares
Open Days:Monday,Tuesday,Wednesday,Thursday,Friday,Saturday,Sunday
Description
WAG WALTERS EMPORIUM is in the heart of south-west western Australia, in Bridgetown, on the Blackwood River. It has 5 rooms crammed full of homewares and gifts, in an aladdins cave of finery. From crockery to scarves, toys to baby clothes, jewellery and quilts from all over the world.
Apart from a garden setting draped in silver birches with pots, birdhouses and frogs, the main display is in the 100 year old slab barn, with its permanent Christmas display, and lamps of every size and description. Gollys and Father Xmas look on, along with a silent 6m wall of bottled fruit. The barn is often described as an Alladins Cave. Every part is magical, from the flickering fairy lights to the array of unusual gifts…there is a chook corner, birds in nests adorn the oval dinner table where 14 guests from the B&B sit each morning, sharing homemade food and stories alike. There is even a floor to ceiling bling cupboard with finery and jewellery. Childrens books, recipe books and memorabilia are scattered throughout to complete the feel of a country store well worth visiting.
The main shop, however, is a girls paradise with crockery from Portugal, England, Poland and China all clambering for attention. Colour is in demand in this country paradise so there is a wide range of vividly coloured accessories to brighten up every winter wardrobe, with a wall of fantastic necklaces, rings and bangles from Israel, France, Italy, South Africa and from every place in between. Cuddly toys rest in baskets as they are looked over by more serious contenders such as Gund, Russ and Charlie Bears above. Scarves and wraps make a perfect foil for the broaches and necklaces.
In the Lucille Room beyond, the theme is bedding, with quilts in cotton, velvet and silk piled high on the shelves, and cushions and throws spilling out on the bed, with pictures and bedlamps completing the vision.
Wag Walters Emporium at Ford House Retreat is Jenny's lifelong dream. Ever since she was 4 years old and given a "Boomerang" cash register, she had a vision of owning her own store. It was definately a perfect career move, 50 years later. At WAG WALTERS EMPORIUM, the extraordinary is a matter of adding extra to the ordinary, so each gift is beautifully wrapped so that they are a joy to the giver and the recipient.
Open 9am-5pm daily
Location