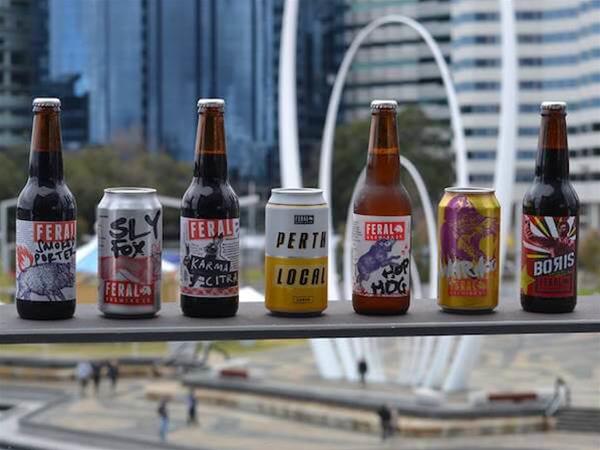 Feral Brewing Company
G'day from the Feral Brewing Company. We are a micro brewery situated in the beautiful Swan Valley – around a half hour's drive from Perth CBD. We offer a unique selection of award winning beers, premium wines made with grapes from our vines and outstanding food at our restaurant.
Open Days/times:Sun-Thu 11am - 5pm, Fri-Sat 11am to late
Facilities:Licensed
Details
Facilities:Licensed
Open Days:Monday,Tuesday,Wednesday,Thursday,Friday,Saturday,Sunday
Lunch:Monday,Tuesday,Wednesday,Thursday,Friday,Saturday,Sunday
Dinner:Monday,Tuesday,Wednesday,Thursday,Friday,Saturday,Sunday
Description
Take a relaxing drive to the heart of the Swan Valley and visit the Feral Brewing Company to try their range of beers matched with innovative food. Open Monday - Wednesday, 11.00am - 5.00pm and Thursday - Sunday 11.00am til late.
Recent improvements to our on-site bar (a move from the original 6 pouring taps to 16!) have expanded our list of beers on offer every day! Keep an eye on this page for new arrivals on the horizon
Feral White - 4.6%
Our White Beer is produced in the true Belgian style with 50 percent barley and 50 percent wheat and an imported Belgian yeast strain. It is cloudy and unfiltered with coriander and orange peel added during the boil to contribute a spicy citrus flavour. Feral White is available in bottles on sale at these Outlets
Hop Hog - 5.8%
Hop Hog is an American-style IPA with strong pine needle and citrus aroma followed by an aggressive bitterness and a dry finish
Pilsener - 5.0%
Feral Pils is a crisp refreshing lager of medium body but with a definite malt character. It has a distinct hop aroma achieved by adding a generous infusion of the noble Saaz hop at the end of the boil.
Mild Child - 3.5%
Our reduced alcohol beer without reduced flavour features a toasted grainy malt character and a surprising full body. The malt flavours are caramel & chocolate.
Farmhouse Ale - 4.0%
Unfiltered and slightly cloudy, this beer pours an orange amber colour. The aromas are spicy and citric and are derived from the spices used in this beer - namely ginger, cured orange peel, coriander and Thai palm sugar. The beer is sweet on the palette but finishes bone dry due to the cloying nature of ginger.
The Runt - 4.7%
For those who can't hack the true Hop HOG experience … 'The Runt' is a more delicate, dry and lightly hopped alternative. Take a teaspoon of cement and harden up, princess!
Smoked Porter - 4.7%
Feral smoked porter has a very gentle bitterness and combines the classic coffee and chocolate character of the Porter style with a subtle smoked hickory flavour derived from the use of peated distiller's malt
Rust - 6.0%
Rust is a strong Belgian Abbey ale style. The aromatic is a reminiscent of candied banana and is produced from a distinctive imported yeast strain. Rich opulent malt character is the dominant flavour and the finish is dry and slightly astringent.
Fantapants - 7.4%
Fantapants is offensively bitter (like most redheads!) but begins slightly sweet, with an aroma of passionfruit and pineapple. The finish is full-bodied with a hint of biscuity malt.
Razorback - 10.0%
An English style barleywine, Razorback has a dense, fruity bouquet, an intense palate and a deep reddish-brown color. Its big maltiness is superbly balanced by a wonderfully bittersweet hoppiness.
Boris - 11.5%
Boris is a jet black colour with an off-white head. The aroma is dark chocolate and coffee. The flavour starts like espresso then fades to a multitude of toasty, roasty and caramel malt flavors. Clean and crisp, full- bodied. Warmth from the high alcohol content lightens up the feel.
Previous Offerings
Pale Ale - 4.9%
Our version of the popular pale ale style has a contribution from all corners of the brewing globe. It contains a combination of German and Australian malts to which we add British and American hops. This beer has grapefruit type bitterness with aromas of passion fruit and lychee.
Tusk - 9.0%
An Imperial India Pale Ale with bags of spicy sweet fruitiness and a huge dry bitter finish
Feral White Special Reserve - 7.1%
"Feral White" was given some extra attention to create "Feral White Special Reserve". We added cardomon pods to the traditional spicing regime of cured orange peel and cracked coriander seed. The alcohol content was been lifted to 7% and an extended 4 month maturation period was employed. The result is an incredibly drinkable but full bodied wheat beer with a wonderful creamy mouth feel
German Red - 5.1%
A pronounced almost sweet malt flavor complements the rich texture of our Alt Beer. The spicy aroma of the tettnang hops balances the moderate up front bitterness. The result is an almost nutty brew with a lingering aftertaste.
Monty's Mild - 3.0%
Small in alcohol, big in flavour, our mid-strength beer is an amber-copper colour. Caramel and toasted malt flavours derived from the crystal malt are at the forefront of the well balanced palate. The beer finishes with a light sweet aroma of toffee and caramel.
Feral Cow - 3.7%
Feral Cow is a malt driven English bitter made with half Cowaramup Bay Brewery English yeast strain & half Ferals Farmhouse yeast strain, fermented in oak barrels
Location