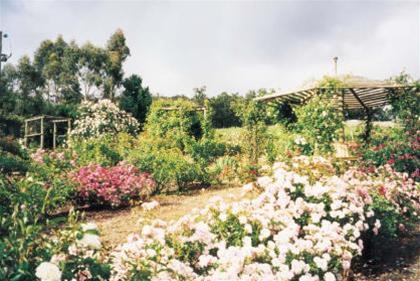 Fancy a full-bodied cab sav, or perhaps a crisp classic dry white? Why not head to Balingup, where a surprising number of wineries have a superb range for tasting.
Details
Description
Situated in the heart of the Blackwood River Wine Valley, Balingup is rapidly being recognised as a premier wine-producing town in its own right, with many wineries and vineyards now established in the area.
The main varieties grown in the region are cabernet sauvignon, shiraz, merlot, chardonnay and sauvignon blanc. Semillon, riesling and pinot noir are also harvested in smaller quantities.
Westlington Brook Winery on Jayes Road to the east of town is a small boutique winery that specialises in shiraz, cabernet sauvignon and a classic white. The winery has just 1.2ha of grapes, which are tended and picked by hand. Westlington Brook is open from Friday to Sunday and public holidays from 10am to 4pm for tastings and cellar door sales. The property is also the scene of a magnificent rose garden featuring heritage and David Austin roses.
Located at the highest point of the Darling Scarp, south of Bailingup and north-east of Greenbushes, Wattle Ridge Vineyard is another winery producing premium quality wines in the region. Wattle Ridge was established in 1997 by Jim and Vicky Henderson with an initial planting of 10,000 cabernet sauvignon vines. Today, the vineyard has an extensive range of plantings incorporating merlot, verdelho and sauvignon blanc. But it is the Two Tinsmiths series of wines for which Wattle Ridge is becoming best known. The name was taken from two tin workers who serviced the area in the late 1800s and was chosen by Jim and Vicky to reflect the area's rich heritage. The Wattle Ridge cabernet sauvignon is possibly their most recognised wine, having won awards, including three silver medals and two gold medals, at recent wine shows. Wattle Ridge has recently opened a wine shed visitor's centre, which also offers cleanskins at great prices. The Wattle Ridge Wine Shed is open from Thursday to Monday from 10am to 4pm. Situated on the Balingup Road approximately halfway between Balingup and Nannup is Blackwood Valley Estate. The boutique 20ha vineyard is nestled between rolling hills and overlooks the Blackwood River. A family run vineyard, the estate is best known for its range of handcrafted Hillbille wines. The vineyard has also produced fruit for some world class wineries including Goundrey, Vase Felix and Evans & Tate.
Beginning in 2003, small amounts of fruit were hand selected to craft the range of Hillbille wines, which today includes chardonnay, merlot, shiraz, merlot-shiraz and a rose. Both their merlot and shiraz also come in a reserve edition and all wine is available at the cellar door. Blackwood Valley Estate also grows six varieties of olive in the vineyard, which they use to produce Hillbille Extra Virgin Cold Pressed Olive Oil. The oil is also available at the cellar door. Blackwood Valley Estate is open weekends, school holidays and public holidays from 10am to 4pm. Also situated on the scenic Nannup Road is the Birdwood Park Fruit Winery. Established in 1992, it is located in a beautiful valley on 14 hectares and boasts a range of fruit wines for the vino connoisseur looking for something just that little bit different.
All the fruit used in production of the wine is grown in the orchard around Birdwood Park and processed on the property. The range of fruit wines produced is expansive, including varieties of plum, pear, apple, apricot, peach, cherry and strawberry. And if you are looking for a more traditional winter warmer, they also offer a range of ports including the Port of Balingup, a Sloshed Apple Port and a Merry Mango Port.
Birdwood Park is open seven days a week for cellar door sales from 9am to 5pm except Christmas Day and Good Friday.
With people often associating wine from the South West with Margaret River, the wineries of Balingup are rapidly establishing themselves as great producers in their own right.
Related
Location