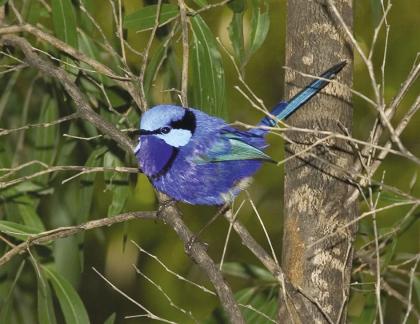 Pack your binoculars for your next trip to Balingup because if you're into birdwatching, you'll find the action plentiful and diverse.
Details
Description
There are a couple of times a year when Balingup is absolutely packed – the Small Farm Day, the Jalbrook Classic and the Medieval Fayre traditionally draw thousands of people. But during the rest of the year, Balingup is also a favourite with holidaymakers for its beautiful scenery and friendly atmosphere. However, what many visitors may miss during their time there is its smaller members of the community ¬– the abundance of birds that live in and around the town and neighbouring properties.
Birds Australia WA Group have put considerable time into discovering and recording the birds in Balingup and its surrounds, and have condensed this knowledge into a nifty little pamphlet, available from the Tourist Information Centre on Jayes Road. This guide will best direct you to the bird-watching hot spots and is a must-have for those who aren't so familiar with the birds of the South-West.
Golden Valley Tree Park in Balingup is a joint project between CALM and the local community. This 60 hectare-plus park is divided into two sections, a planting of native trees and an imported section of trees. They are grown in a landscaped setting and there are many trails throughout the park so visitors can easily make their way around. There is plenty of bird life in the park, including emus, musk ducks, ibis, eagles, kestrels, black cockatoos, rosellas, kookaburras, thornbills, honeyeaters, whistlers, fantails, wagtails, swallows and the lovely fairy wren. There is a quiet picnic area with barbecues and toilets in the park – a great place to spot many of the birds while enjoying a picnic lunch.
Driving out along the Balingup to Nannup scenic route you can often spy finches nipping across in front of your car and even the occasional emu loping up the hillsides. Pull into the grounds of Tathra and you are immediately hit with the number of birds, which are so used to human contact they are comfortable enough to hop around you. They'll even sit on the picnic tables as you enjoy your scones with jam and cream, available from Tathra. One word of warning, don't leave your jam alone for long – the finches and wrens have been known to help themselves. This is a great opportunity to get some pictures of some stunning birds up close.
If you're heading out of Balingup towards Donnybrook, a great birdwatching destination is the Donnybrook Country Club, just west of Donnybrook. Visitors are welcome to stroll through the grounds and in season can spot orchids and other wildflowers. What makes this stop particularly worthwhile for birdwatching enthusiasts is the possible sighting of red-tailed black cockatoos that fly by in groups or sometimes just sit quietly in trees, their magnificent red tail feathers contrasting sharply with their jet black feathers and the blue sky. While at the country club, remember to watch out for flying golf balls, and picking the wildflowers is a strict no-no.
Those spending time in Balingup are likely to see lots of friendly little birds as you wander up and down the main street. And if you stay in local accommodation, you'll often be bunking with families of finches, wrens and other small forest birds, that are more than happy sharing their home with visitors.
For more information on birdwatching around Balingup, call the Balingup Tourist Information Centre, on (08) 9764 1818.
Location