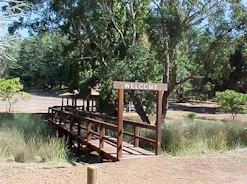 Golden Valley Tree Park is a unique collection of beautiful and interesting trees from all over the world, grown in a landscaped setting.
Details
Description
The park's aim is to create an inspirational place for all to enjoy.
Established over 20 years ago, the arboretum is one of Balingup's best kept secrets.
Walk trails criss-cross the Park and lead to spectacular scenic lookouts. Great picnic facilities (BBQs & wood) and a safe area for kids to play.
2 km from town; free entry 24 hours.
Location