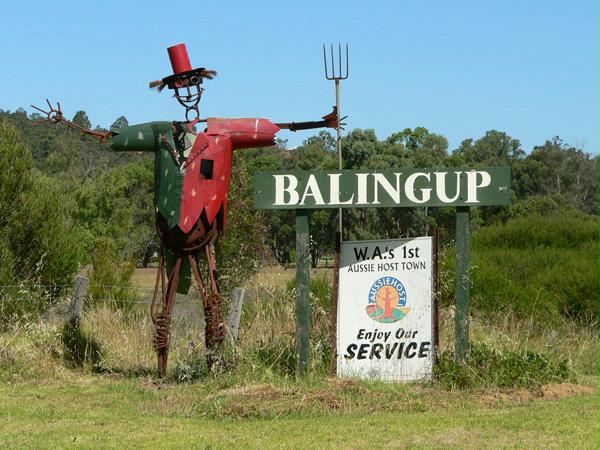 The Balingup Visitor Centre provides information on things to do, where to eat, and where to stay when you are in town, and to plan the next leg of your journey. Open daily 10am – 4pm.
Details
Description
Experience the Magic of Balingup
The historic village of Balingup is situated at the northern entrance to the picturesque Blackwood River Valley in the south west of Western Australia. A premier tourist town, Balingup is well known for its art and crafts, galleries, wineries, festivals and events; and is surrounded by wonderful scenery - forests, winding rivers, rolling hills, vineyards and lush orchards.
A leisurely two and a half hours drive from Perth, Balingup offers some of the finest accommodation in Western Australia, and has become known as an alternative destination from which to explore the wine, forest and coastal regions of Australia's South West.
Events
With a small but vibrant community, Balingup is acknowledged as a leader in staging festivals and events. The major events are the Balingup Small Farm Field Day (April), Telling Tales in Balingup (July), the Balingup Medieval Carnivale (August) and the Jalbrook Concert (November), but you will find there is always something happening and plenty of things to do.
Things to do
On a visit to Balingup you'll find numerous unique specialty shops and galleries, award winning wineries, and a craft centre with the largest range of arts and crafts in Western Australia. There are a number of delightful cafes providing morning tea, lunch and afternoon tea, and a restaurant and tavern provide evening meals. Accommodation options include a full range of styles and prices and include secluded cottages, B&Bs and farm stays, so there will be something ideal for either a family holiday or couples seeking a romantic getaway.
The world renowned Bibbulmun Track passes through the town along the gentle Balingup Brook and meanders to the south through the beautiful Balingup Golden Valley Tree Park. The Park is a unique collection of beautiful and interesting trees from around the world, and is Western Australia's largest Arboretum Park. There are many options for interesting walks, ranging from an hour to a couple of days.
To spend time in Balingup is to enjoy the experience of the ever-changing seasons. The winter valley mists, spring blossoms, glowing sunsets and the russet red tinting of the autumn leaves are all part of the magical Balingup experience.
Balingup awaits you any time of year - the hardest thing you will have to do is leave.
Address: South Western Highway, Balingup
Location
Address: Bridgetown Road,Balingup,WA,6253
Phone: (08) 9764 1818
Email: [email protected]