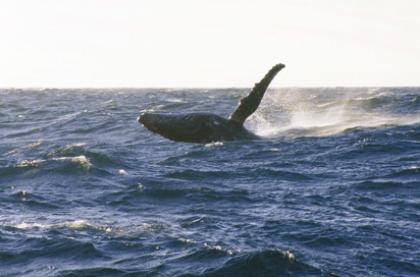 More than 200 whales can be seen during the peak whale watching season in Flinders Bay. If you want to witness the cool ocean spray on your face as a magnificent whale breaches just metres from your boat, rug-up and join a whale-watching tour in Augusta.
Details
Description
There are many world-class experiences sitting on our doorstep – the fabulous wineries of the South-West, the stunning natural attractions along the Kimberley coast, the unspoilt beauty of the Ningaloo Marine Park to name a few. But a relatively unknown experience not to be missed here in WA is whale watching in Augusta.
During the peak whale watching season, up to 200 whales can be seen at one time in Flinders Bay, including humpback, southern right and even the odd blue whale, which we're told are extremely rare. Not only are there an incredible number of whales in the area, they're also spectacularly active – humpback whales are the species' most aerobic –so you can almost be guaranteed to see them breaching during your tour.
The whale season in Augusta runs from the end of May through to August, when the last whales continue their migration north along the WA coastline. Naturaliste Charters owners Steve and Terri Mitchell have spent the past decade monitoring the mammals' behaviour and tell us that the whales are particularly frisky at this time because the males are courting the females. All 200 or so are doing their best to pick a mating partner.
The only way to witness this spectacular event is by joining Steve and Terri on one of their daily tours. According to Steve, the majority of visitors to the area are oblivious to the breathtaking attraction waiting just a couple of miles out to sea. "People aren't aware how amazing this is," he says. "People who travel the world whale watching are in awe when they come here. They've been to a dozen different places and say they haven't seen anything like this, and it's right on our doorstep". Steve continues to tell us that while the season's peak lasts for only 17-21 days on average, it's rare not to see the whales during winter, particularly in June and July.
Naturally curious, the whales will approach the Mitchell's catamarans, coming within metres of tour-goers. Although the thought may seem a little scary, seeing a 50-foot whale breach so close you can feel the ocean spray across your face is certainly something you'll never forget. Also viewed during the cruises are New Zealand fur seals that inhabit Flinders Island, playful bottlenose and common dolphins that dart in between the gentle whales, and royal albatross among numerous other sea birds.
The Naturaliste Charter catamarans, of which there are two, are well suited to nervous sea-going travellers. The 15m "cat" holds 50 people and the 17m cat holds 55 and both have been custom-made for whale watching and to endure Augusta's wintery weather and water conditions. The decks are wide enough to give all tour-goers a good view of the action and there's ample room inside the boat for those looking to escape the cold. And trust us, it get pretty darn chilly. Speaking of which, going out on a whale watching tour is a great opportunity to layer up and wear those winter woollies you've had sitting in moth balls all season – hats, gloves, scarves, a splash-proof jacket and jumpers do not go amiss.
Included in the tour price are sandwiches and refreshments, although there is an onboard bar and guests are welcome to bring along a snack if they'd like. Tours start at 10am and 2pm, and last between two and three hours depending on the excursion's success. Private functions for corporate and social groups are also welcome. Adult tickets cost $48; children under 12 cost $27; and students pay $42. While bookings are always necessary, it's advisable to call ahead if you're travelling with a group. Call (08) 9755 2276 or visit whales-australia.com.
Location