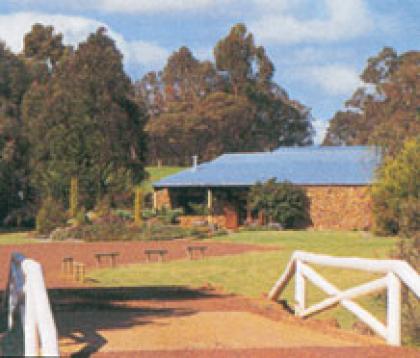 Extend your wine-tasting horizons to Albany, where Australia's most remote wine region is making its mark on the competitive viticulture scene.
Details
Description
In Albany you'll find all the essential ingredients for a quality winemaking area – a cool and humid maritime climate, sandy clay, loamy soil that drains well and a high annual rainfall. The area lends itself to chardonnays and sauvignon blanc, although those in the know can see the potential of the cooler climate reds, such as cabernet sauvignon.

Wignalls Wines, one of the larger producers, is well known for its chardonnay and, increasingly, its pinot noir. Over the past few years, the winery has notched up more than 50 gold medals and trophies. The cellar door, made from rustic stone, is also a drawcard and is rated alongside the best in WA in terms of individuality and service. Just like the bigger players in the South-West and Swan Valley, Wignalls hosts regular music events that draw large numbers. Its Vintage Blues Festival happens in the first weekend of the year and is always a sell out, so blues fans should start planning their New Year's trip to Albany now.

Montgomery's Hill Winery is a slightly smaller producer, also making quality chardonnays of the wooded variety. After just six vintages, its sauvignon blanc is showing great potential and attracting lots of interest. The cellar door is worth the stop - the glorious view over the picturesque Kalgan River and across a valley to the vineyard is reason enough. To get those tastebuds stirring, Montgomery's also offers cheese platters, which are served either outdoors or inside the tasting area.

Marketing this relatively young wine region is the Albany Wine Network, which aims to improve the tourism potential of the area. As well as Wignalls Wines and Montgomery's Hill, there are four other operators under the Albany Wine Network banner – Jinnunger Estate, Phillips Brook Estate, Two Peoples Bay and Oranje Tractor.

Oranje Tractor is the newest kid on the block with its first vintage of riesling, sauvignon blanc and cabernet merlot released last year. The winery, like its name, is a little different from the rest. There are no chemical sprays, as an army of free-ranging chickens and guinea fowl eat the pests. Composted manures also help sustain the vines.

At the other end of the age scale is Phillips Brooke Estate, which was established in 1975 and is the oldest vineyard in Albany. Plantings include riesling and cabernet sauvignon.

Cool climate varieties of pinot noir and chardonnay are the ones to watch at Jinnunger, a small family vineyard that specialises in biotic and high-tech grape production methods.

Two Peoples Bay grows sauvignon blanc, semillon, riesling, cabernet franc, cabernet sauvignon and shiraz, which makes for a fair variety of wines to sample at the cellar door. Here the focus is on low yield, high-quality wine.

Some Albany tour operators will do charter trips to the wineries on demand, however the Albany Wine Network recommends nominating a skipper and touring in your own car, purely because of the distances that need to be travelled. For a map of the area, drop into the Albany Visitor Centre or call the winery for directions.

WINERY CONTACT DETAILS:
Wignalls Winery, Chester Pass Road, (08) 9841 2848, cellar door open 12noon-4pm daily and extended hours during peak times.
Montgomery's Hill, Hassel Highway, Albany, (08) 9844 3715, cellar door open 11am-5pm seven days.
Jinnunger Estate, Nanarup Road, (08) 98464 374, mail order online www.jinnunger.com.au.
Phillips Brook Estate, Redmond/Hay River Road, (08) 98453 124, tastings by appointment.
Two Peoples Bay, Nanarup Road, Albany, (08) 98464 346, cellar door open by appointment.
Oranje Tractor, Link Road, Albany, (08) 9842 5175, cellar door by appointment.
Location