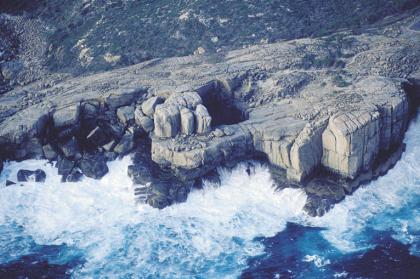 There's only one way to circle the state's highest peak and a mothering whale and her calf in one day. For a unique perspective take a scenic flight from Albany.
Details
Description
Albany is beautiful from the ground and breathtaking from the air. If you'd like to take a flight over Albany's stunning coastline and surrounding pasturelands, there are two companies that offer scenic tours of the region, Great Southern Aviation and Albany Aviation.

Both companies run tours in light, 6-seater aircraft. Great Southern Aviation flies a Cessna 206, while Albany Aviation offer similar flights in a pressurised Centurion. They are extremely versatile and allow you to get right up alongside bluff knoll, circle over impressive Great Southern Right Whales and land on small airstrips in the nearby towns.

Tours can be tailored, but the most common trip is a standard one-hour flight covering the Albany Township, the windfarm, the coastline and the nearby Stirling and Porongurup ranges.

If you're interested in travelling further afield a flight we highly recommend is Great Southern Aviation's trip from Albany to the coastal town of Bremer Bay and back. The tour leaves from the Albany Airport and heads east from town towards the Porongurup and Stirling Ranges. The flight then travels out over the grain growing areas, rivers and rocky outcrops nearer Bremer Bay.

After spending an hour and a half in the air you land in Bremer Bay and embark on a fascinating tour of Wellstead Homestead Museum owned by long time Bremer Bay resident Max Wellstead. This museum is home to a collection of family heirlooms dating back to 1850 including musical instruments, clothing, medical supplies, vintage cars, stables and more. After a light lunch at the museum the short flight home follows the coastline dotted with rocky bays where the Southern Right Whales mother their calves in spring.

Albany Aviation is actually more of a charter than a touring company and provides charters to areas other than just Albany and it's surrounds. Their pressurised aircraft is extremely fast and economical making business flights from Albany to Bunbury, Perth, Augusta, Kalgoorlie or Esperance possible.

Albany Aviation can also organise scenic flights of the South-West. A typical three-day tour of the region will depart from Jandakot airport in Perth early in the morning, fly to Leeuwin in the Margaret River Region for lunch then land in Albany for the night.

The next day is yours to do with as you wish. You might like to visit some of Albany's most popular tourist attractions such as Whale World, the Gap, the Blowholes and Mt Romance. We recommend you talk to Albany Aviation and squeeze an hour's scenic flight into your day at some stage.

The third day you fly to Hyden in the Heartlands for lunch and a tour of Wave Rock before returning to Perth completing your whirlwind tour. If this trip doesn't suit you Albany Aviation can design a tour specifically for you and your party.

If you're considering a scenic flight in Albany it is important to remember to call and book in advance. As the aircraft are so light, trips will only be conducted if the forecast is fine to avoid turbulence. Airsickness affects many people when flying in light aircraft for too long so an hour and a half is usually just right. As with all tours, discuss your specific concerns with the company.

Flying to Albany from Perth cuts three and half-hours from your travel time. Skywest fly twice daily to Albany offering a highly professional and comfortable service. They are also offering excellent holiday packages to Albany combining flights to and from Perth with accommodation and tours while you're there.

Special thanks:
Scoop would like to thank Skywest for flying us to the region. We would also like to thank Keith and Janet Hillam from Beachhouse at Bayside for their hospitality.

OTHER STUFF:
Spring is a fantastic time to visit some of the local galleries in the region. From olive oil and art at the newly opened West Wind Drift to the region's best artwork hanging at Gorepanni there's a wealth of creative talent waiting to be discovered. The region is also home to a thriving wine industry. Most of the new vintages have just been released and will be proudly displayed at the Great Southern Wine Festival held from September 26-29.
Location