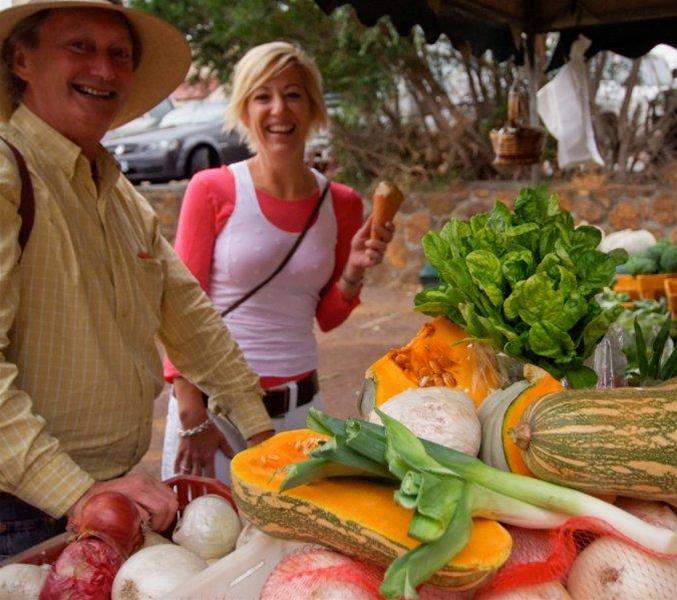 Visitors to the coastal city of Albany have never had it better with an ever-increasing choice of quality cafes and restaurants offering tantalising, mouth-watering cuisine using some of the regions finest and fresh produce. We asked four of the best chefs to shed some light on their must-try dishes.
Details
Description
MICHAEL DELLI-BENEDETTI
NONNA'S
Fresh prawns, mussels, calamari, scallops and fish all grilled atop fresh seasonal salad with a sweet chilli and orange dressing
If you're after the full package of ambience, impeccable service and delicious food, then your choice would have to be Nonna's, situated in the heart of Albany. With an alfresco area that provides glimpses of the harbour, Nonna's serves Mediterranean-style cuisine at surprisingly affordable prices that will keep you coming back. It caters for those looking for an intimate dining experience or a casual evening out with the family.
Owner Michael Delli-Benedetti has spent years refining his menu and suggests you try his legendary Barbecued Seafood Salad – Nonna's signature dish, available for lunch and dinner. A simple but delicate dish, the seafood is marinated in extra virgin oil, seasoned and grilled with a squeeze of lemon and orange juice then dressed with sweet chilli, tossed and placed on some seasonal vegetables. To a complement the meal Michael suggests a bottle of West Cape Howe's viognier.
#Nonna's, 135 York Street, (08) 9841 4626, BYO/licensed, open 11am to late Monday-Saturday.#

ANDREW HOLMES
WILD DUCK
Braised duck in an apple case (Asian-style with chillis) with seared scallops and a soft herb salad.
Relatively new, Wild Duck is quickly gathering a following for owner and chef Andrew Holmes' fine cuisine, which Andrew describes as modern Australian with a French influence. He recommends you try the roast apple, filled with sweet chilli braised duck. The delicate mouth-watering dish, served with tender scallops, has subtle and refreshing apple flavours with a hint of peanut and is cooked to perfection and is beautifully presented.
Andrew doesn't have a particular wine in mind but recommends a cabinet sauvignon to accompany this dish.
#Wild Duck, 112 York St, (08) 9842 2554, BYO, open 6pm, Wednesday-Sunday.#

CHRIS BANKS
TANGLEHEAD BREWING COMPANY
Crumbed whiting, garlicky potato crumb with crab and lime mayonnaise.
Tanglehead is more than just a new concept for beer drinkers in Albany. The new boutique microbrewery, with its modern interior and views of the harbour, also provides a relaxed dining experience with a carefully selected menu to match. Chef and business partner Chris Bangs suggests you try his crumbed whiting fillets pan-fried with crab and lime mayonnaise. Accompanying the whiting is lightly crumbed fennel, spiced with chilli; a side bowl of sticky garlicky potatoes coated with caramelised onion, garlic, butter, sea salt and pepper; and a fresh green salad. Although a selection of quality Great Southern wines is available, Chris recommends a cold wheat beer as the dish's perfect partner during the summer months.
#Tanglehead Brewing Company, 72 Stirling Tce, (08) 9841 1733, fully licensed, open 11am to late.#

GREG PEPALL
RESTAURANT ROCKS
Twice cooked Szechwan duck and seared scallops served on roasted garlic-centred butternut pumpkin with smoked zucchini and spinach salad.
Located opposite Dog Rock, this restaurant gives the local dining scene a fresh new taste and style. Restaurant Rock's highly acclaimed and award-winning head chef Greg Pepall recommends you try his Szechwan duck. The duck breast is rendered skin side down then braised in Szechwan teriyaki sauce until medium rare to medium. The butternut pumpkin is roasted then pureed, while the zucchini is grated then smoked and added to a fine salad of english spinach with scallops seared in the duck juices. The richness of this dish is perfectly matched to a glass of Wignalls 2005 Pinot Noir.
#Restaurant Rocks, 303 Middleton Rd, (08) 9841 4422, Licensed, open breakfast and dinner daily.

What's hot?
• The weekly Albany Farmers Markets are worth a visit to pick up the freshest local produce. Saturdays 8am-12pm, Aberdeen Street.
• Gorepani Art Gallery has relocated to the town centre on Middleton Road. Check out the latest artworks and exhibits on show. Call (08) 9841 4468.
• Get down to the Vintage Blues Music Festival, January 6, at Wignalls Winery on Chester Pass Road. Call (08) 9841 2848
• A 5-star resort is possibly set to enhance the stunning coastal area of Frenchman Bay in Albany and if approved, will include a restaurant and entertainment centre.
Location