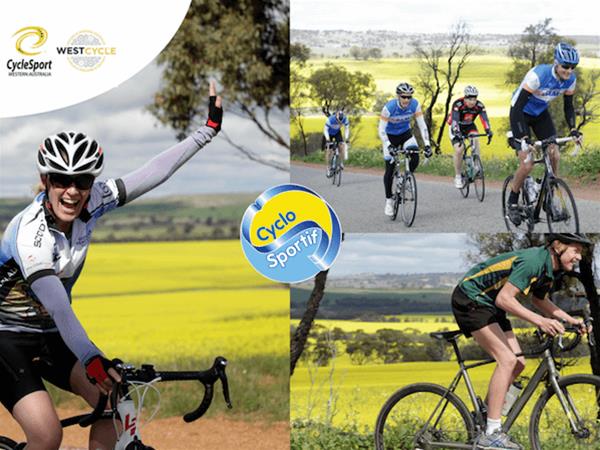 Cyclo Sportif York
Join us for the ultimate Father's Day weekend in the beautiful Avon Valley, the Cyclo Sportif York is part of the York Cycling Festival. York Cycling Festival is the perfect mix of time away with the
Details
Description
Join us for the ultimate Father's Day weekend in the beautiful Avon Valley, the Cyclo Sportif York is part of the York Cycling Festival. York Cycling Festival is the perfect mix of time away with the family, friends, leisure and of course riding.There are plenty of accommodation options in and around York.

Date: Saturday, 1 September 2018
Time: From 7:00am for all distances
Venue: Pioneer Avon Park, LOT 11 Lowe St, York WA 6302

A Distance – 94km
B distance – 53km

Teams
Our rides are based on the European style team events. Riders organise themselves into teams of four to nine riders. A team can be made up of any 'like' group such as your friends, regular riding group or work colleagues. You can ride any type of bike provided they are consistent across your team (ie, all road bikes, hand bicycles or mountain bikes). A Cyclo Sportif is conducted in race-like conditions with each team receiving a time however it is NOT race – it is about enjoying a challenge with your friends and participating as a team – not 'winning'. Your team must work and remain together throughout the event.

Fully Supported
Bicycling Western Australia has developed a reputation of presenting fun and exciting events in a safe environment. This event is fully supported with approved traffic management, corner marshals, on-road support and water stations.
Location