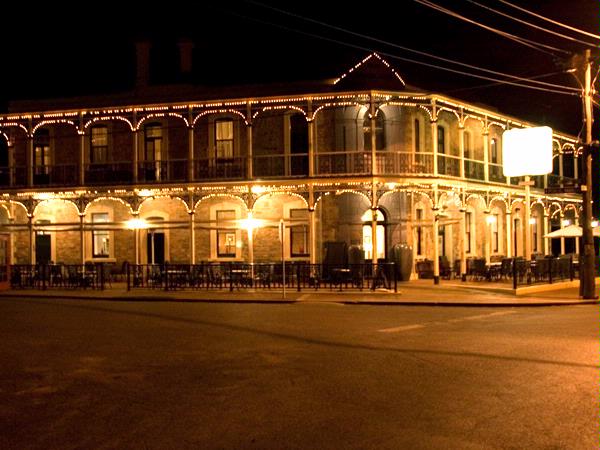 The Imperial Hotel offers everything you would expect from a hotel in a capital city anywhere in the world, but is in the heart of the country WA.
Details
Type:Hotel
Facilities:Adults Only,Bar,Conference Facilities,Functions,Pets Allowed,Restaurant
Description
Accommodation
The Imperial Bar & Grill operates from this nationally listed heritage building, and offers contemporary accommodation in a magnificent setting.
The Imperial Garden suites are to die for.
You can book direct from the Imperial website at www.imperialhotelyork.com.au
Food
The Imperial Bar & Grill boast the services of Alain Ducasse trained Chef, Christitan Kauffmann, Christian hails from Menton a small town in the South of France close to Monaco, Christian has spent time in France, Malta and the UK. Christian has worked in many of the best restaurants around the world including the famous Hotel de Paris in Monaco.
His food is subtle unique and interesting, Christian has his own style, and fuses many the influences gained during his formative years.
The Imperial has both Bar and A la carte menu's with meals to suit all budgets
Beer
The Imperial boast it's own brewery beer, with 8 Brews including Original York Ale, Old Peculier Porter,Wheatbelt Whacker, Mongers Mango, Outback Lager, Ranga Ginger Beer. The Imperial has 3 bars, each offering a unique atmosphere. The Imperial Bars are not slavish to fashion, it makes it's own statement.
Wines
The Imperial wine list is varied and interesting, with local, interstate and international wines, we carefully select the best quality wines in all prices, you will always find something to please.
Functions
The Imperial is fully experienced in all function styles, from cocktail to formal degustation menus, we can tailor any function to suit your budget. Be it Wedding, Birthday, Corporate event, large or small..
Special Events
The Imp hosts many special events throughout the year, this year The Last Dinner on the Titanic is a regular event, starting on the 16th of April 2011, this year see's the 100th anniversary of the sinking of the Titanic and the Imperial will once again host the "Last Dinner on the Titanic". A recreation of the last meals served on the Titanic in it's final hours. Three classes of tickets are available, Captains Table, First Class and Steerage, period formal dress for 1st Class and Captains table, with "Old Fashioned" dress for steerage. The evening is a piece of theatre as well with suprises throughout the evening.
Check out the website for all up and coming events
Contact details T: 08 9641 1255
E: [email protected]
W: www.imperialhotelyork.com.au
Opening Times
Wednesday to Sunday 11-3pm & 6pm to 11pm

Location