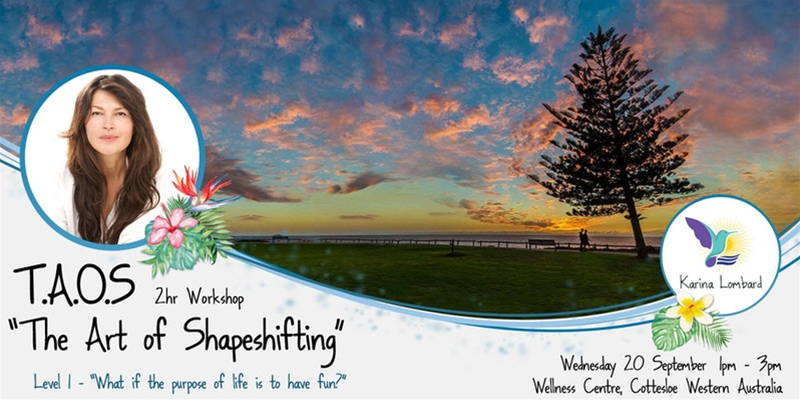 2 Hour Workshop With Karina Lombard
"What if the purpose of life is to have fun?" 2 Hour Workshop with Karina Lombard
Venue:Cottesloe Wellness Centre
Details
Hosted By:ReStory Pty Ltd
Venue:Cottesloe Wellness Centre
Description
T.A.O.S - "The Art of Shapeshifting"
"What if the purpose of life is to have fun?"
Level 1 - (2 Hour Workshop)
Join us at the Wellness Centre in Cottesloe, Western Australia, on Wednesday 20 September, from 1pm - 3pm, for a 2 hour workshop that asks the questions:
- What if the purpose of life is to have fun?
- Do you understand the language of your body?
- Would you like to communicate with ease?
- Would you like to swim in consciousness?
- Do you perceive that your cells, your body, your being are connected to the infinite intelligence of the Universe? The sacred in the secret. Just be you.
Limited Tickets Available: 20 places only
Cost: $369 each (+ booking fee)
Book Now: https://20septpmkarina.eventbrite.com.au/
Location: Wellness Centre, Cottesloe
80 Railway Street, Cottesloe, WA 6011
About Karina Lombard
Karina Lombard is a multifaceted media professional - an actor, screenwriter and director; known for memorable roles in both film and television. Educated in Europe, fluent in five languages, Karina is a long-time advocate of Indigenous rights, is passionate about environmental issues and when not acting, proactively pursues her interest in providing workshops to raise and create awareness of wellness.
We are privileged to invite Karina Lombard to provide these exclusive Workshops to you in Perth, Western Australia
Event run by ReStory Pty Ltd
Location
Venue:Cottesloe Wellness Centre
Address: 80 Railway St,Cottesloe,WA,6011
Phone:
Email: