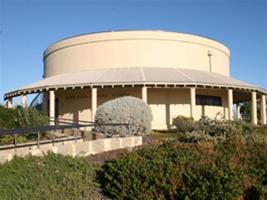 Visit Mt Flora Regional Museum and discover the rich and diverse history of the City of Stirling. Explore the history through photographs, displays, artefacts and stories. It is worth a visit to Mount Flora Regional Museum for the view alone!
Details
Museums:Local History
Open Days:Wednesday
Description
Attractions: The exhibits at the Mt Flora Regional Museum offer a look into region's past through photographs and artefacts.

Permanent exhibitions include:
Shipwrecks
Whaling
Early days of school.
The mezzanine floor focuses on social history, where visitors can look through 'windows in the past' and see what typical rooms were like in the early days. For example, one exhibit is a 1940s kitchen showing utensils at the time, such as a wood stove, and a dining room set for a family dinner.

Go up the stairs to the panoramic lookout and you get one of the best views in the northern suburbs. In 1942 the Defence Forces also utilised the building as an observation post, and you can still see the fantastic view today.

A mural by Anne-Maree Pelusey is painted on the walls of the lookout and features about 300 local fish.

Outside the museum, there is a large grassy park with a children's playground and picnic area.

About the museum
The Mt Flora Regional Museum is housed in a 1936 water tank originally built for North Beach residents. After being phased out of service in the 1970s, the City of Stirling and the North Suburban Historical Society developed the facility into a museum.

Visiting the Museum
Location
Mount Flora Regional Museum
Elvire Street, Watermans Bay

Wheelchair and general disabled access is available from the car park to the ground floor and the park area. Off street parking is also available.

Opening hours: Sundays, 1.30pm – 4.30pm. Open other times by appointment.

Museum tours
Our museum curator hosts guided tours where he relates local stories and informs visitors about the historical background of the museum site and building.

Community and school groups are encouraged to visit.

Please call to book a tour.
Location
Address: Elvire Street,Watermans Bay,WA,6020
Phone: (08) 9205 8555
Email: [email protected]