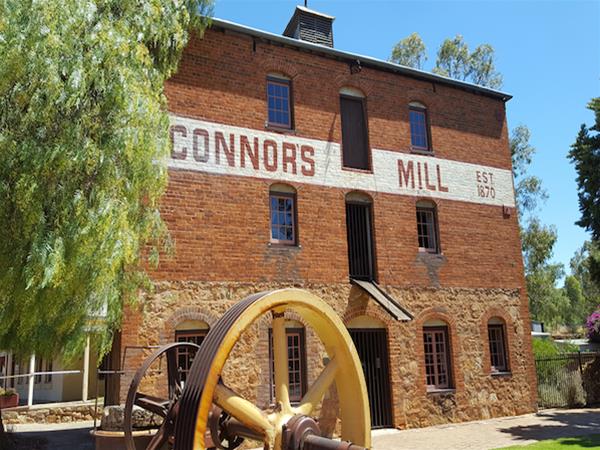 Connor's Mill
Connor's Mill on Toodyay's main street is open seven days a week, with displays of working milling machinery and agricultural history.
Museums:Farming,Local History
Details
Museums:Farming,Local History
Open Days:Monday,Tuesday,Wednesday,Thursday,Friday,Saturday,Sunday
Description
Connor's Mill is accessed through the Toodyay Visitors Centre next door.
There are three floors to explore, with the top two being accessible by stairs. Interpretations tell of the use of the building first as a flour mill, then as a power house and lastly as a tourist information centre.
On the ground floor is the 1940s era Brotherhood steam engine that once generated power for the local Industrial Extracts factory, which extracted tannin from timber. Today the engine is powered by an electrical motor, and cut-out sections display the moving pistons inside.
The Brotherhood engine is connected by a series of pulleys operating the historic milling machinery on the floor above.
On the top floor more milling equipment is on display, along with artefacts and information about other historical agricultural activities from the area, including pastoralism, honey, viticulture, timber and Ballardong Noongar practises.
Related
Old Newcastle Gaol Museum
James Drummond Snr, with grandson James Mackintosh
Banksia Formosa specimen; Framed
Location
Address: Cnr. Stirling Terrace and Piesse Street,Toodyay,WA,6566
Phone: (08) 9574 9393
Email: [email protected]