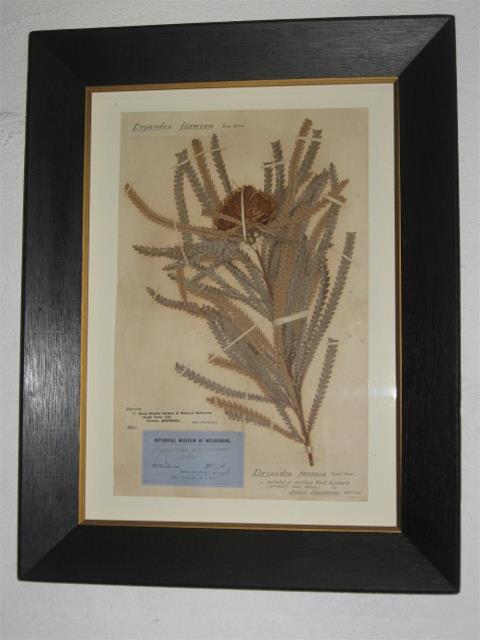 Banksia Formosa specimen; Framed
Framed Banksia formosa specimen, collected by James Drummond.
Details
Description
Botanical specimen of Dryandra Formosa (R.Br.), more recently named...
Banksia formosa (R.Br.) A.R.Mast & K.R.Thiele
Showy Dryandra
Austral.Syst.Bot. 20:68 (2007)
...collected by James Drummond.
This specimen originated from a collection owned by the Botanical Museum of Melbourne, which in 1963 changed it's name to the Royal Botanic Gardens and National Herbarium South Yarra, Victoria Australia.
The botanist who originally named and described the specimen, was Robert Brown.
This particular specimen was donated by the gardens to the Newcastle Gaol Museum on the 20th March, 1963. Presented by Dr. J H Willis on behalf of the gardens.
Related
James Drummond Snr, with grandson James Mackintosh
Location
Address: 14 Clinton Street,Toodyay,WA,6566
Phone: 08 9574 9393
Email: [email protected]