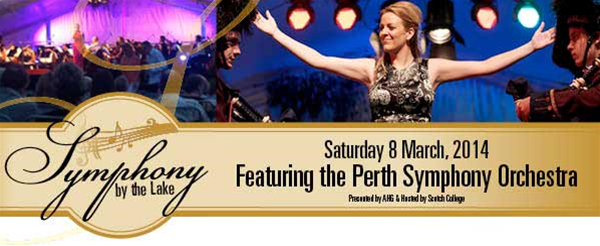 Symphony By The Lake 2014
Delight in an evening under the stars featuring symphonic works from Perth Symphony Orchestra and an array of other bands, choirs and soloists.
Venue:Scotch College Playing Fields
Details
Venue:Scotch College Playing Fields
Audience:Family-Friendly
Description
Symphony by the Lake is back! And it promises to be yet another remarkable evening of orchestral music on an epic scale. This signature gala concert will showcase the exciting Perth Symphony Orchestra under the baton of Jessica Gethin in full force joined by many special guest artists including singer Justin Burford, and soprano, Amy Manford.
Concertmaster Paul Wright will again lead the orchestra and feature as a soloist in the emotional theme from the film, Schindler's List, in a program that covers the entire spectrum from classical to rock, film to jazz. Over 120 musicians will grace the stage and we are again joined by the combined Scotch College / PLC choir and the incredible Scotch College Pipe Band who will perform the theme from the film "Last of the Mohicans" with the orchestra.
The concert, presented by Foundation Partner of the PSO, AHG, and hosted by Scotch College will again be held on Scotch College Playing fields but has been relocated to the far end of the area so the stage will now have the stunning backdrop of the lake and the trees that surround it. Whilst food and beverage options are available, patrons are encouraged to bring a picnic and bottle of wine, round up friends, family, clients and colleagues and bring a group for a night of magic created by the Perth Symphony.
The gates open at 5pm and we are delighted to welcome Scotch College Jazz again to welcome picnickers as they arrive. The Perth Symphony Orchestra takes to the stage at 7pm and the concert is expected to conclude at 9.30pm.
Location