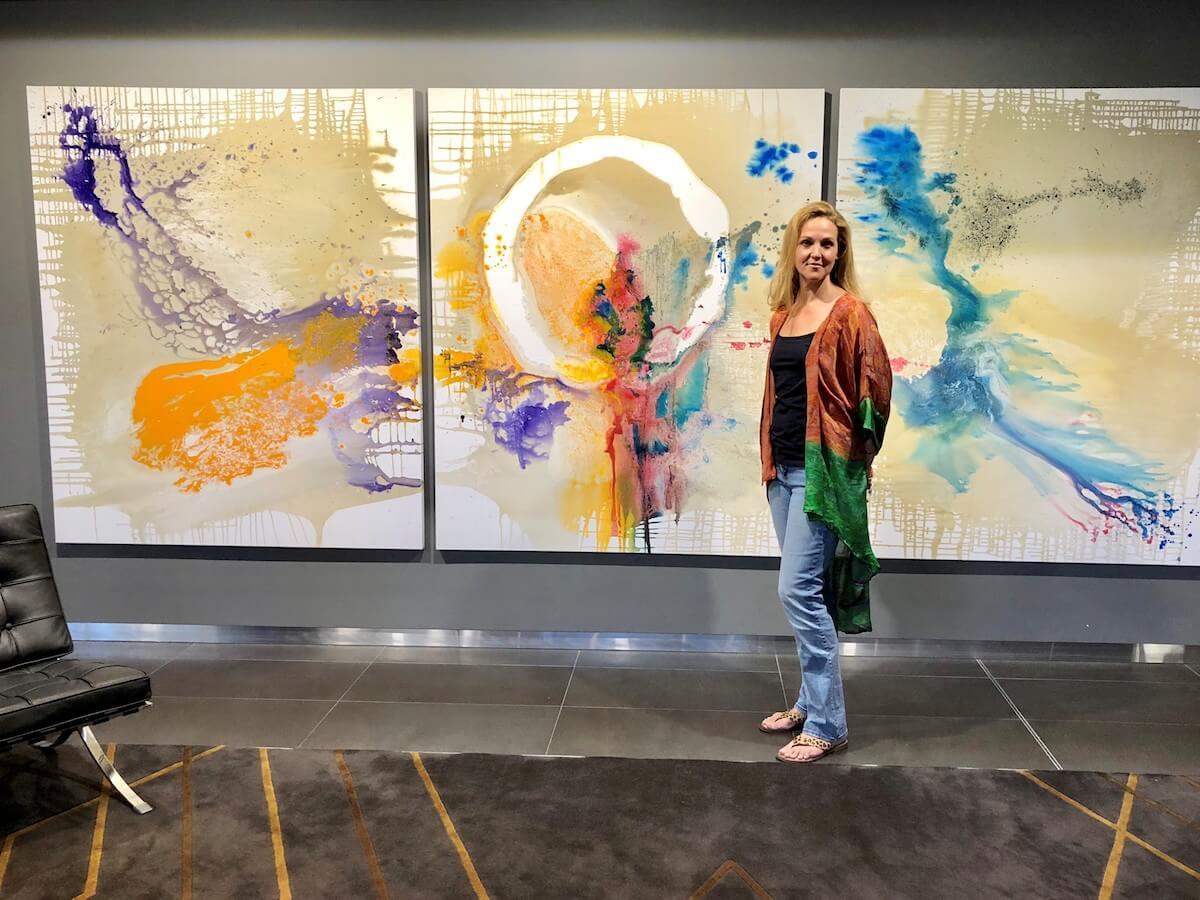 Caroline Christie–Coxon is an established and collectable artist working creatively with paint to reveal mysterious yet recognisable imagery, such as geological strata, crystal and cellular formation.
Open Days/times:BY APPOINTMENT ONLY
Galleries:Artist Studio
Details
Galleries:Artist Studio
Open Days:By Appointment Only
Description
Caroline's passion and education in art spans her lifetime. She is a professional artist, well known for her process driven painting style and her signature circle motif, of which she began her continued focus and exploration of two decades ago. As an established artist she continues to explore the processes of paint.
Caroline is unusual in her multifaceted experience in the art industry. She has a university education in visual arts, majoring in History of Art; has been painting all her life; has owned and operated successful commercial art galleries in Perth, intermittently, since 1997, representing some of Western Australia's leading artists today; and is a qualified art therapist.Caroline has participated in numerous solo and group exhibitions, and is represented in prestigious public and private collections, including The Government of Australia and The Anglican Church.
Working from a studio in Subiaco, Caroline enjoys commissions as a relational experience. Due to the nature of her work, experience with the client is valued and lends itself to the underlying principles of process in her work – the client becomes a part of the process. Contact Caroline to make an appointment to view current artworks.
Featured images
o Eco (2C) 70cm x70cm, Limited Edition, Prints on Paper (Giclee on Archival Paper). $750 Unframed
o Coral (R2L) 138cm x 100cm, Limited Edition. Prints on Paper (Giclee on Archival Paper) $950 Unframed
o Back to the Wild, 200cmx80cm, Mixed Media on canvas. Price $6900
o Unity 80cmx150cm. Mixed media on canvas. $9900
Artist Statement
The nature of paint as a substance and painting as an act is most alluring to me. As an abstract expressionist and process-driven painter I mix pigmented substances, exploring them as elemental and reactive. Facilitating the process with experience and intuition, my work is a recording of natural forces and processes, such as density and flow in response to gravity, elemental exposure and chemical reaction. I encourage paint to behave and express due to circumstances.
Because these principles are universal the result is somehow recognizable; such as cloud formations, aerial landscapes, cosmic macrocosms and cellular microcosms. When painting I am revealing a process that tells a story – a visual dialogue.
These painterly happenings at play on the canvas, invoke a desire to reach and touch, respond and engage; and to celebrate the intimacies it brings. The experience results therefore in something sensory. I invite you to trust your response as authentic and valid. I believe the work is given unique expression under your regard and that is exciting!
Location
Address: Shop 3b, 424 – 436 Hay Street,Subiaco,WA,6008
Phone: 0417 926 960
Email: [email protected]