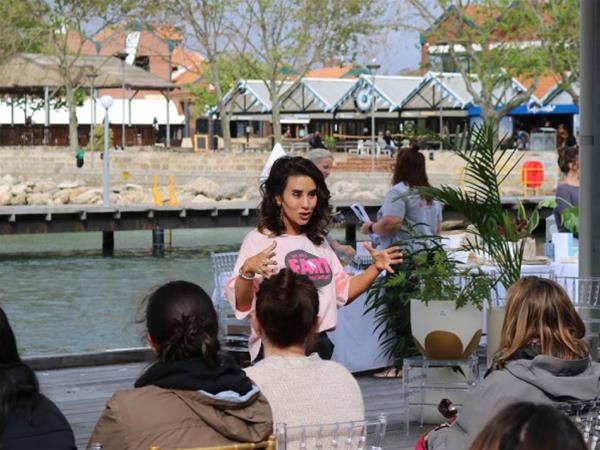 The Subiaco Wellness Festival
Presented by See Subiaco, EcoLuxe Events and F45 West Leederville & Subiaco.
Dates:Mar 24
Time(s):9 AM – 1 PM
Venue:Market Square Park
Details
Venue Address:Subiaco 6008
Ticket Price:Free
Venue:Market Square Park
Description
Participants on the day will be treated to a vibrant array of presentations, activities, interactive workshops plus opportunity to engage with various experts in the many pillars of Wellness from around Australia in the interactive Showcase Lane.
For the first time ever, we bring to you 3 unique "zones" of Wellness where you can experience all the above and more: MINDSET MARQUEE, F45 INTENSITY ZONE, BODYWORKS CHILL ZONE PLUS AN INTERACTIVE SHOWCASE MARKET LANE with over 50 WA Brands, Businesses and Service Providers

MINDSET MARQUEE
9am Yoga on the Lawn - start the day feeling refreshed and revived with this 1 hour Yoga Flow session to balance the mind, body and spirit
11am Dr Katherine - will talk all things, mindset, body confidence and how to let go of expectations and live a fun fufilled life where anything is possible!
12pm Barb de Corti - Enjo Australia CEO, will share her story on Modern Day Entrepreneurship, clean living and the life defining moment she exprerienced

THE INTENSITY ZONE
presented by F45 Subiaco & West Leederville
9am BOXING - 45 mins - you'll put your cardiovascular, strength, boxing, MMA and martial arts to the ultimate test, while somehow finding time for a laugh.
10am CARDIO INTERVAL CIRCUIT - 45 mins - you and your comrades will laugh and cry as you work your way around the circuit. Meanwhile, your heart will be wondering what it ever did to you to deserve such treatment.
11am - RESISTANCE, CARDIO & GRAVITY BASED - Combining functional resistance, functional cardio and bodyweight movement patterns, you will thank us later. Certainly not mid session.
THE CHILL ZONE
presented by Bodyworks Subiaco
9am - DYNAMIC MAT PILATES - 45mins - Dynamic Matwork introduces you to intermediate and advanced exercises challenging your bodies ability to correctly recruit your local stabilisers whilst layering with power and endurance.
10am - STRETCH & ROLL - 45mins - Stretch and Roll is the perfect way to unwind and set your bodies up for a tension-free week ahead. Incorporating STOTT Pilates principles and using foam rollers, therabands, fitness circles and spikey balls; you will walk out of this class feeling taller.
11am - FASCIAL MOBILISATION & BREATH WORK - 45mins - Fascial release focuses on reducing pain by easing the tension and tightness in the trigger points. In this class, excercises will incorporate fascial release and breathwork allowing tightness, pain and stress to melt away.....

INTERACTIVE SHOWCASE - MARKET LANE
Join over 50 WA Brands, Businesses and Service Providers in an Interactive Market of Wellness Practitioners, Products and Food and Drinks galore!
Enjoy FREE massages, chiropractic assessments, physio treatments along with our very FIRST Japanese Healing Corner where you can enjoy 15 minute, Reiki, Access Bars, Bowen Therapy and Sound Healing!
Location
Venue:Market Square Park
Address: Market Square Park, Subiaco 6008,Subiaco,WA,6008
Phone:
Email: