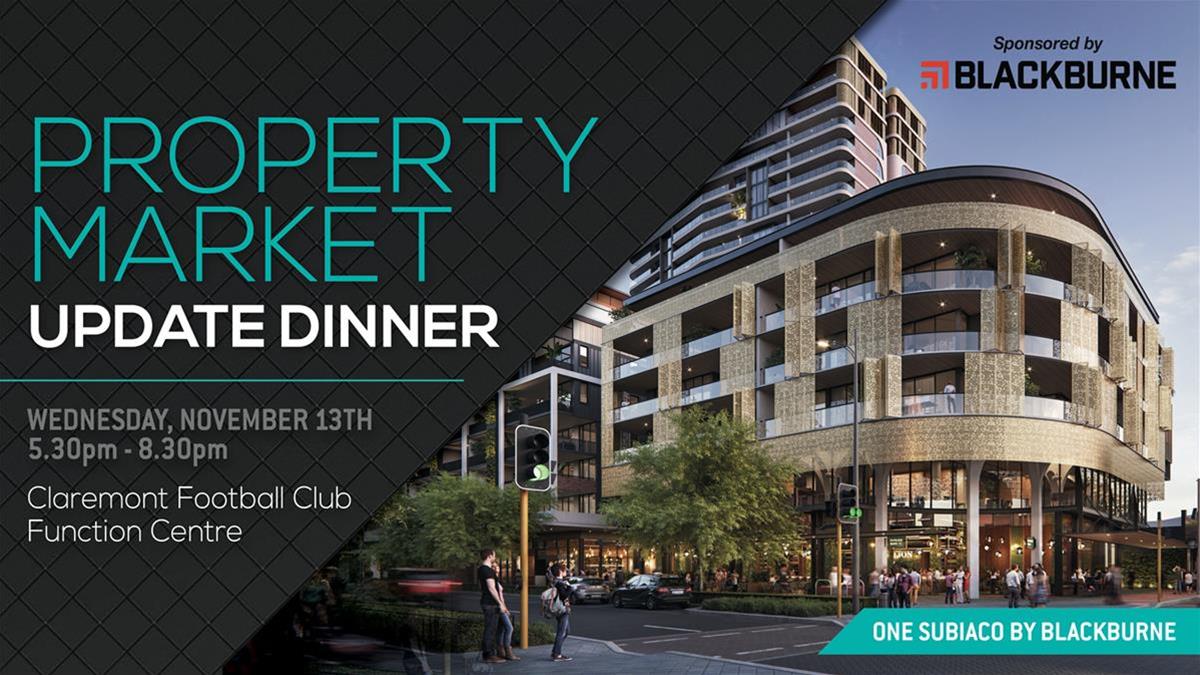 WSBA 2019 Property Market Update Dinner - Claremont Football Club function center
Please join us for an informative up date on all things property. Hear from three of WA's leading experts on the local property market.
Dates:Nov 13
Time(s):5:30pm to 8:30pm
Venue:Claremont Football Club function center
Details
Venue:Claremont Football Club function center
Description
Please join us for an informative up date on all things property. Hear from three of WA's leading experts on the local property market. The latest forecasts and trends in residential, commercial and retail markets plus an overview on investment and development with the opportunity for guests Q & A time.

This is always an informative, entertaining evening and one of the most popular events on the WSBA calendar
5.30pm - 6.00pm Welcome networking drinks in the Denis Marshall room.
6.00pm - 8.30pm Dinner & guest speaker presentations in the Graham Moss room.
Tickets:
WSBA Members: $135.00
Non-Members: $165.00
Open seating unless tables of eight (8) are booked.- please contact us to a secure table.
Tickets include three-course dinner and all beverages.
Menu information : If beef is not your preference for main course please select the vegetarian option at point of booking.
ABOUT OUR GUEST SPEAKERS
Gavin Hegney
Gavin Hegney is one of Australia's most influential voices in property. As a skilled analyst of the property and finance sectors, he is a prolific market commentator and shares his insightful understanding in forecasting future market trends. Gavin has earned a longstanding reputation of integrity and business innovation and has been a prominent member of Western Australia's property industry for 35 years.
He was founding director of a national property valuation company and started the first property buying service in WA
In 2016, Gavin elected to embark in a new direction by departing from his business and diversify into a solo career which has delivered many new exciting and varied opportunities.

Paul Blackburne
Paul Blackburne is the Founder and Managing Director of Blackburne. Since starting the company in 2003, Blackburne has grown to become Western Australia's leading integrated property group, specialising in property development, sales, property management, strata management and mortgage broking.
Blackburne has won a number of awards including: 2018 UDIA Winner Best Medium Density Development (The Cove, Minim Cove), 2016 UDIA Winner Best High Density Development (Aria, Swanbourne), 2015 UDIA Winner Best Medium Density Development (Monarc, Highgate), 2018 Winner of Property Council of Australia's WA Development of the Year (Aria, Swanbourne), 2018 UDIA Finalist (Oracle, Perth), 2017 Finalist for UDIA Best High Density Development in Australia (Aria, Swanbourne), 2015 UDIA Finalist (Encore, Subiaco) and 2014 UDIA Finalist (Haven, East Perth).
Paul has personally been recognised with a number of leading awards which include: 2016 First Amongst Equals Winner of WA Business News 40under40 Award – recognising Perth's leading business entrepreneur under the age of 40. Paul is regularly featured in the media giving comment as an expert in apartment development and can often be seen guest speaking at industry events.
As Managing Director, Paul leads a strong executive team to continually deliver world-class developments to the people of Western Australia.
Jim Tsagalis
Jim is the Managing Director of Lease Equity, one of Australia's leading commercial property agencies.
He holds a Bachelor of Economics, post graduate degree in Management, a current Triennial Certificate and is an Associate of The Australian Property Institute.
He has held board positions with The Global Entrepreneurs Organization which boasts over 10,000 of the world's leading entrepreneurs. He is the Chairman of The Per City Focus, a Business Improvement District for the CBD and is a board member of Historic Heart a collection of owners promoting the East End of Perth with Art installations, gardening and activations.
The business manages more than 20 shopping centres in the metro and country Western Australia , numerous office buildings, industrial properties and strip properties culminating in over 1000 tenants under his company's management. He solely owns the business employing almost 40 people and having some of Australia's wealthiest families , Listed Property Trusts, Universities, Religious Organizations and sovereign funds as clients. He is a trusted advisor to all of these and key influencer in their investment decision making.
He is one of Perth's most connected commercial property players with both tenants and owners. If it's happening in commercial property, particularly retail, he is either doing it or knows about it. His knowledge is encyclopedia and he had a renowned work ethic regularly turning regular 70 hour weeks. He travels the world extensively bringing investors and tenants to Western Australia and is renowned as a prolific deal maker. Many of the international and national brands that have opened in Perth have been introduced by him. The company has a staggering 70% market share of retail leasing in the CBD and has been responsible for project leasing over 500,000 m2 of suburban malls.
He has built one of Australia's largest independently owned commercial real estate practices.
Jim has over 25 years of experience in the property industry including retail, industrial and commercial leasing, sales and asset management. He has personally transacted in excess of 2,000 leasing deals totalling over $350M in rent, averaging almost 100 deals per year. This is a staggering rate by world standards. He has also been active in the sales arena having transacted over $350M in sales.
He oversees a business that has managed or transacted over $25B worth of real estate. Notable sales include Plaza Arcade $48M, Southern River Shopping Centre $27M and Equus Retail Arcade $29M. The business transact more than 350 deals per year.
He is "hands on" both owning and running Lease Equity whilst being at the forefront of master planning advisory and transactions.
Jim is internationally recognised for his property expertise, including consulting and advising to some of Australia and the world's largest REIT's, a number of the world's largest sovereign funds, local and State Governments, Universities and some of the largest private property owners in the Australian market. Several notable projects he has undertaken include Forrest Chase, enex, 140, Brookfield Place, enex, Cloisters Shopping Arcade, Cockburn Gateway and Whitford City all of which have benefited significantly with Jim's expertise and extensive network.
Some of Jim's latest projects include Hibernian Place (incorporating The Westin Hotel), QV1, FOMO (Kings Square, Fremantle), Murdoch University, UWA and Curtin University and Forrest Chase.
His body of work and thought leadership has literally shaped much of Perth's retail property market making him a key player and influencer in the market.
It is understood his property influence extends to his own commercial real estate portfolio which is thought to be vast and be greater than $50,000,000.
He is an astute reader of the market and predictor of trends.
Perth's leading apartment developer, Blackburne, has been involved in the Perth property industry for many years.
The award-winning developments Blackburne create benefit from their property obsession, with every apartment designed to deliver an exceptional lifestyle experience.
Blackburne has a strong track record and has become an industry leader in residential apartment sales, recognised by the many awards it has received.
While property development is at the core of their business, it is strongly supported by complementary services including sales, strata management, property management and mortgage broking.
The Western Suburbs Business Association is a not-for-profit, member-driven organisation that connects and represents business people across the western suburbs of Perth and beyond. If you are interested in learning more about the WSBA, email us or visit our website.
Location
Venue:Claremont Football Club function center
Address: Claremont Football Club, 3 Davies Road, Claremont WA 6010,Claremont,WA,6010
Phone: 93813219
Email: [email protected]
Website:http://www.wsba.net.au