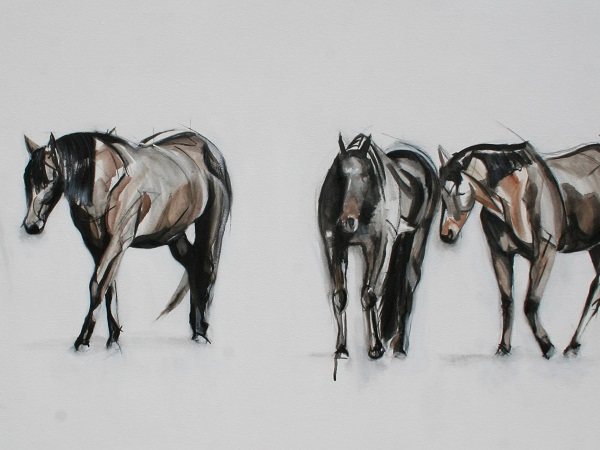 Artist Open Studios
Local Stirling artists Geoff Devereux, Julie Silvester, Linda O'Brien, Maryann Devereux and Roslyn Nolen invite you to discover their homes and studios, as part of the Summerset Arts Festival.
Details
Description
Speak to the artists in person and gain an understanding of how the passion for their subject matter transfers into their work. This is a unique opportunity to experience first-hand artists at work in their own studios and browse artworks for sale in a casual and relaxed atmosphere.

The following studios will be open 10am - 4pm on Sunday 24 and 31 January:
Roslyn Nolen
With a degree in Fine Art and a Grad Dip in Sec Ed. Roslyn finds herself juggling her great passion of art and a busy household of four young children with calculated time management. As a result of culminated life experiences, Roslyn has etched a strong connection about place, time and emotion in her art. Roslyn captures the majestic beauty and mystery of the equestrian world and yet can capture the human form with such sensitivity that it is as though her work breaths and speaks to the viewer.
Studio Address: 23 Beckington Way, Karrinyup
[email protected]
www.roslynnolen.com.au
Linda O'Brien
Linda's enthusiasm for pastel painting is due to the immediacy, vibrancy and versatility of the medium, continually exciting her with its effects of overlaying translucent colour. Linda's work is continually evolving as she seeks to portray light and its effect on atmosphere, luminosity and colour. In contrast, Linda's work also experiments with acrylic and oil on canvas, giving herself permission to play and discover.

Studio Address: 25 Rockliff Avenue (cnr Wheeler Rd), Karrinyup
[email protected]
www.lindaobrienartist.com

Julie Silvester
Julie has always enjoyed using the coast as inspiration for her work with its light and colour, movement and ever changing moods offering her an endless supply of subject matter. The excitement of exploring new areas locally and afar is what keeps Julie stimulated in painting. Her art is a way of showing the beauty of this amazing environment we live in and to see, appreciate and care for what we all take for granted.

Studio Address: 12 Stavely Place, Innaloo
[email protected]
www.juliesilvester.com.au

Maryann Devereux
Maryann's love of seascapes, the individuality of life forms and the strength, beauty and diversity of the north west of Western Australia ensures the constant evolution and passion in her paintings. This makes the hours spent at her easel a joyous and fulfilling endeavour. Maryann runs workshops from her studio in texture and collage and is also involved with teaching art to persons with disabilities.

Studio Address: 12 Malcolm Street, North Beach
[email protected]
www.maryanndevereux.com.au


Geoff Devereux
Spending his early years as an apprentice Carpenter and Joiner set Geoff on a course which allowed him to hone his skills to become an ageing artisan. After fifty years of working with wood, his philosophy is to let the timber determine how it is best developed to its full potential. Geoff works with beautiful Australian timbers including Jarrah, Marri and Sheoak.

Studio Address: 12 Malcolm Street, North Beach
[email protected]
Location
Venue:Various locations
Address: Various Locations,Stirling,WA,
Phone: 08 9205 8555
Email: [email protected]