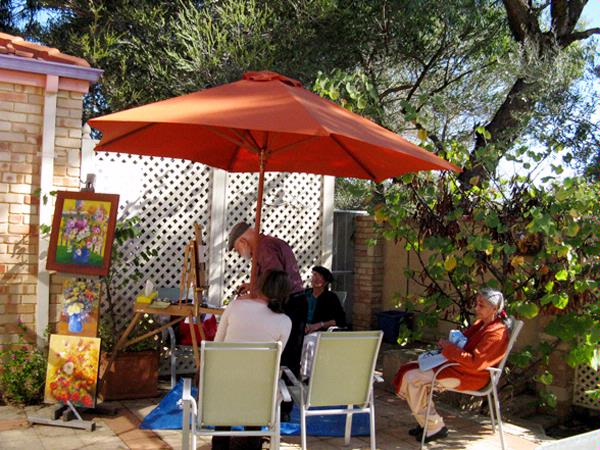 Monet Gallery of Fine Arts
Have you discovered Monet Gallery Yet? One of the best on-going exhibitions of beautiful paintings in Perth!
Open Days/times:Thursday - Sunday 12 - 5pm
Galleries:Art Gallery,Painting
Details
Galleries:Art Gallery,Painting
Open Days:Thursday,Friday,Saturday,Sunday,Public Holidays
Description

Tucked away in South Guildford on Great Eastern Highway not far from the river, Monet Gallery has an abundance of paintings by well known West Australian Artists; paintings to suit all tastes. So come, browse and enjoy! If you are looking for a painting for your home or work-place, it is likely Monet Gallery has the perfect answer. There is always an array of delightful paintings in acrylic, oil, pastel and water-colour in a variety of styles and techniques. Great for that special present too! Choose from total realism to impressionism or semi abstract works, by artists who delight to depict aspects of Western Australia with their paint brush. Sizes vary and most prices are affordable. Aboriginal art is also available.

One of Perth's best on-going, yet continually changing, exhibitions of beautiful paintings by W.A.'s established Artists

The wide range of paintings is housed in a charming rustic, French Provincial style building that is sunlit. It has a back terrace, and a side courtyard that abuts a cycle path to the Swan River; a two minute walk away. The larger, main gallery of the three within the building, has a roof window that lets in natural light which is a bonus for solo exhibitions sometimes held there. However the main purpose of the gallery is to have an on-going diverse exhibition of the 40 plus artists it represents. This means that visitors will always find the building overflowing with paintings to view or buy. Many by well established artists whose names you will know! No need to wait for a specially advertised exhibition. Maureen Sylvia, water-colourist and owner has created a friendly, peaceful atmosphere where visitors can enjoy a complementary tea or coffee as they relax and view this wide range of beautiful paintings that reflect the wonderfully, diverse art to be found in West Australia. It is also a great place to meet other people who love to paint or talk art.

Happenings
Monet Gallery of Fine Arts is open every Friday, Saturday and Sunday 12 to 6 pm and Thursdays 10 to 4 pm. More information is available on the web-site www.monetgallery.net.au or by phoning the gallery on 08 9277 3685. Workshops and solo exhibitions are sometimes held during the year, and on weekends in July in particular, you will find five of Monet's regular artists painting on site for visitors' enjoyment. Monet also features an artist in the studio from time to time throughout the year, and art-linked poetry readings in spring. There is always a warm welcome as Maureen believes art is for everyone. Have you discovered MONET GALLERY yet?
Related
Swan Guildford Historical Society Colonial Gaol and Taylor's Cottage
Midland Junction Arts Centre
Location