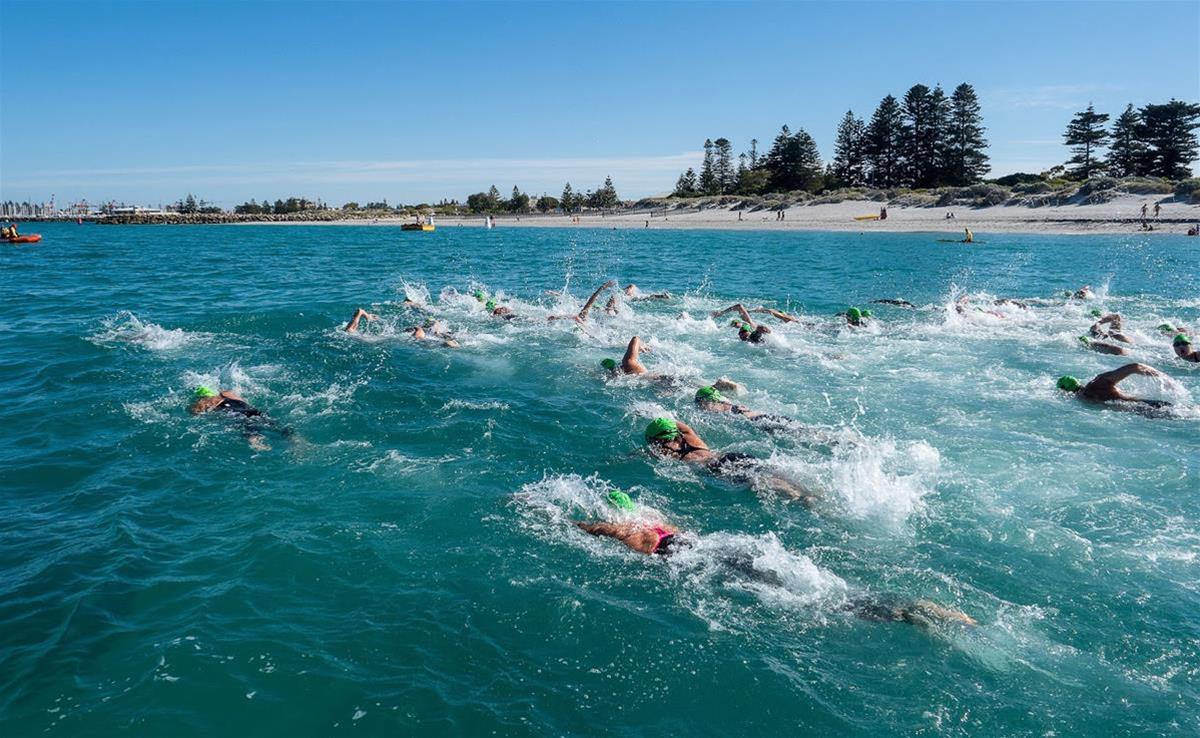 Fremantle Ports Swim Thru
The Fremantle Ports Swim Thru is a swim for everyone with three distances to choose from and a whole heap of prizes up for grabs!
Dates:Dec 14
Time(s):Registrations from 6.30am. Race starts 8am.
Venue:South Beach, Fremantle
Details
Hosted By:Fremantle Masters Swimming Club
Venue Address:South Beach, Fremantle
Ticket Price:Enter either the 1.6km or 3.2km Fremantle Ports Swim Thru by midnight Sunday 10th November and receive the early bird price of $30. From Monday 11th November it increases to $35 and on race day it is $40.
Ticket Price FROM:$30
Ticket price TO:$40
Venue:South Beach, Fremantle
Audience:Adults,Family-Friendly,For teens 13-17,For seniors
Description
The Fremantle Ports Swim Thru, presented by the Fremantle Masters Swimming Club, is a fun and friendly open water swim for everyone.
There are distances to suit all ages and abilities - the 250m Try-it event, 1.6km Classic and 3.2km Challenge – with plenty of prizes up for grabs.
After the swim, relax in the shade with a picnic or delicious bacon and egg roll supplied by Jandakot Lakes Lions Club.
Proceeds from the event go towards the Freo Street Doctor Mobile Health Clinic and St Patrick's Community Support Centre so not only will you be staying active, you'll also be helping support the local community.
Early Bird entries close midnight, Sunday 10 November. Online entries close midnight, Thursday 12 December. Late entries will be available on race day at the venue until 7.15am.
The Fremantle Ports Swim Thru is part of WOW swims, the community swim series for all. WOW swims are designed for swimmers of all ages and abilities to experience all the fun of open water swimming in a range of settings and over a variety of distances. WOW swims are designed to encourage participation in community events as part of a healthy lifestyle.
For more information visit www.freofins.com/swimthru
Location
Venue:South Beach, Fremantle
Address: South Beach, South Fremantle. Access is via South Terrace & Douro Rd.,Fremantle,WA,6162
Phone: 0417 917 438
Email: [email protected]