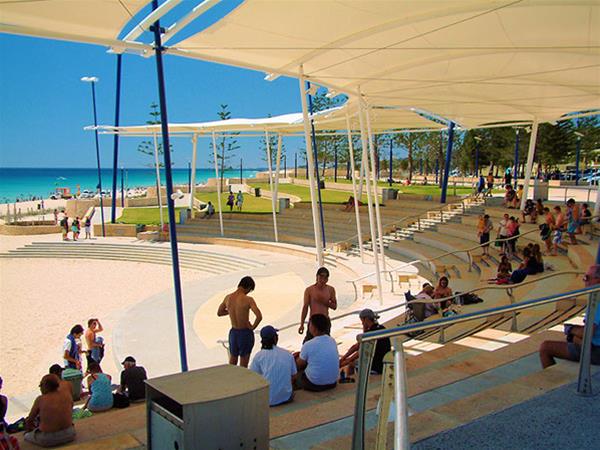 Scarborough Amphitheatre
The Scarborough Amphitheatre is located on the foreshore of Scarborough Beach is a great venue for events, sporting competitions and promotions.
Facilities:Theatres,Entertainment Venues
Details
Facilities:Theatres,Entertainment Venues
Description
The Scarborough Amphitheatre was constructed in 2006 as part of the redevelopment of the Scarborough Beach precinct. The open-air amphitheatre is capable of hosting sporting tournaments, concerts, and cultural and corporate events. The venue has been host to the Australian Surf Life-Saving Championships (Aussies), national beach volleyball tours, Kellogg's Nutri-Grain Ironman Series as well as concerts such as Sets on the Beach, Carols By Candlelight and the City of Stirling's Summerset Festival.
When not used for events, the venue is a great passive space for visitors to enjoy. It offers shaded areas, grass tiers, easy access to the beach as well as the adjacent children's playground and barbecue facilities, making it a great place for family gatherings. With a sweeping vista of the Indian Ocean, it provides a unique experience for all beach goers.
Location
Address: The Esplanade, Scarborough,Scarborough,WA,6019
Phone: (08) 9205 7472
Email: [email protected]