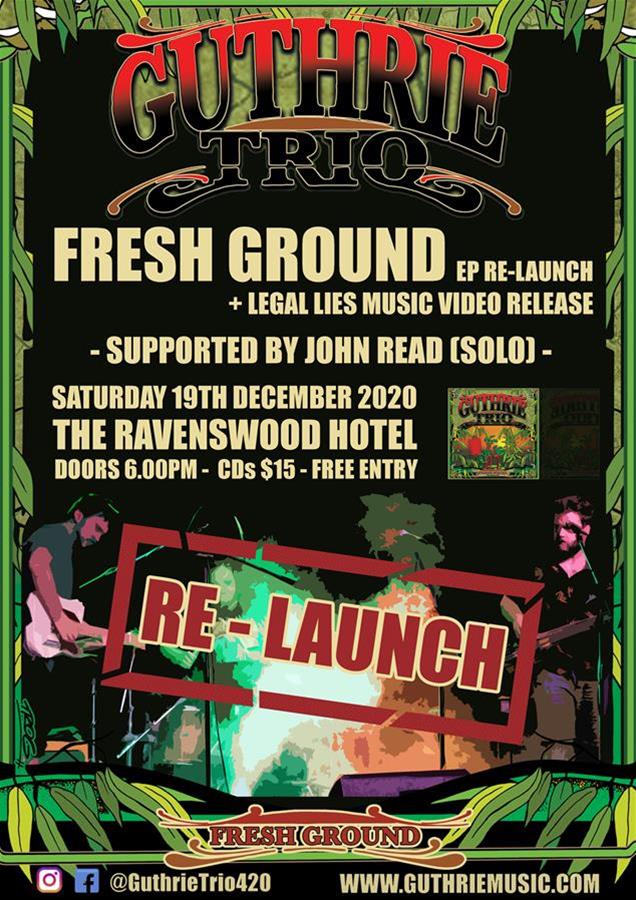 Guthrie Trio "Fresh Ground" EP ReLaunch
Guthrie Trio are excited to announce the Re-Launch of their latest EP "Fresh Ground" along with the release of their 1st Music Video! December 19th - Ravenswood Hotel - 6pm - Free Entry
Dates:December 19th
Time(s):6pm
Venue:Ravenswood Hotel
Details
Hosted By:Guthrie Trio
Ticket Price:Free
Venue:Ravenswood Hotel
Description
After COVID came crashing into Australia delaying our EP Launch, we are beyond stoked to announce that the Guthrie Trio will be re-launching their 2020 release "Fresh Ground" at The Ravenswood Hotel on December 19th 2020!
The night will also mark the release of a new music video for the bands latest single "Legal Lies". And to top that all off, supporting us on the night is the incredibly talented John Read!
Music will start soon after 6pm, so be sure to come down to the Ravenswood Hotel early, grab a comfy spot, a feed, your favourite beverage and get excited! Entry is Free.
Fresh Ground CD's will be available for $15
$20 for Seeds of Change + Fresh Ground (2 x CDs)
Location