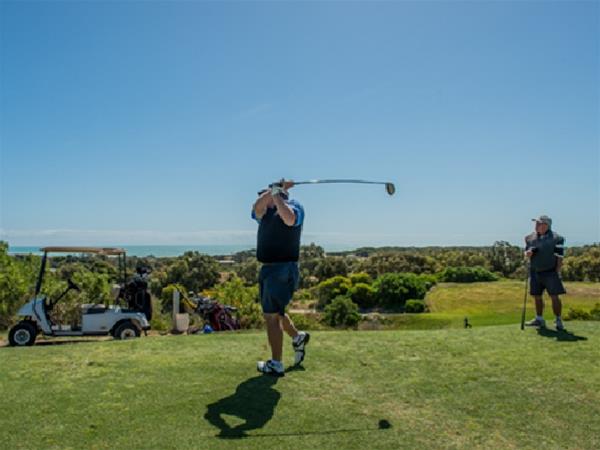 Dongara Golf Club
The Dongara Golf Course is the best kept secret north of Perth – a real gem.
Details
Description
Is a quite challenging mens par 71 - 5535 metres and Ladies Par 72 - 4968 metres course. The course record currently stands at 68. The 18 holes of grass greens are fully reticulated and has some spectacular views of the twin townsites of Dongara and Port Denison & the Indian Ocean.
Competition days are - Wednesday - Ladies ; Thursday - Scroungers; Saturday - Competition ; Sunday - Competition.
Green Fees-
18 Holes: $30
9 Holes: $20
Juniors u/18: $10
We can also offer weekly ($75) or monthly ($150) membership for visitors wishing to holiday in Dongara- Port Denison
Established in 1931 and originally a sand green course, through the efforts of members over the years, it now boasts 18 holes of beautiful grass greens and fairways. In 1980 2 bores were sunk and the front nine fairways reticulated. Then in 2001 the front nine greens were planted with saltene grass, following along in 2003 with the back nine being reticulated and greens planted. The reticulation was upgraded in 2009 and the infrastructure put in place to accept treated waste water from the Health Dept. As of April 2011 we have been using treated water (50%) with our bore water and we are now seeing the benefit of the nutrient rich water. This is one of the few remaining golf courses that is still voluntarily maintained by its members, although we now have a Green Keeper on staff.
Visitors Welcome! For more information go to www.dongaragolf.com.au
Location