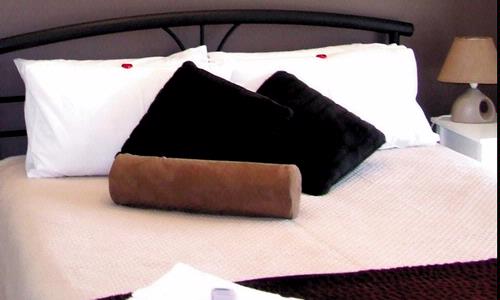 You will have complete privacy and seclusion and every comfort needed for total relaxation. Find out why our guests don't want you to know Porongurup's Best kept secret!
Details
Description
Choose from our Hot Tub & Sauna or Spa Chalets. Luxurious, secluded Spa Chalets with Stirling Range views. Everything you could need, want or imagine (except a ridiculous price tag)! Massages, wood-fired pizzas, platters and more.
Indulge yourself in our luxury spa chalets. The design has been carefully chosen with your comfort in mind. You will truly get what you are expecting! Our chalets have all the little touches (as well as the big ones) that have often been forgotten, along with amazing attention to detail, and friendly down to earth service. We believe we offer the best value luxury accommodation in the Great Southern- we deliver what we promise, and then some!
Choose from our Spa Chalet or our Hot Tub & Sauna Chalet
Both our luxury Chalets overlook the majestic and ever changing Stirling Ranges, nestled in natural bush.You will be amazed at how the view can change with the weather! You can enjoy a glass of the local award winning wine, and by night marvel at the total peace and a million stars.
You will have complete privacy and seclusion with no chalet next door, and everything you need in your chalet to keep you busy.Once you have stayed with us, you will understand why our guests don't you you to know their accommodation secret!
Location
Address: 278 Moorialup Road,PORONGURUP,WA,6324
Phone: 08 9853 1111
Email: [email protected]