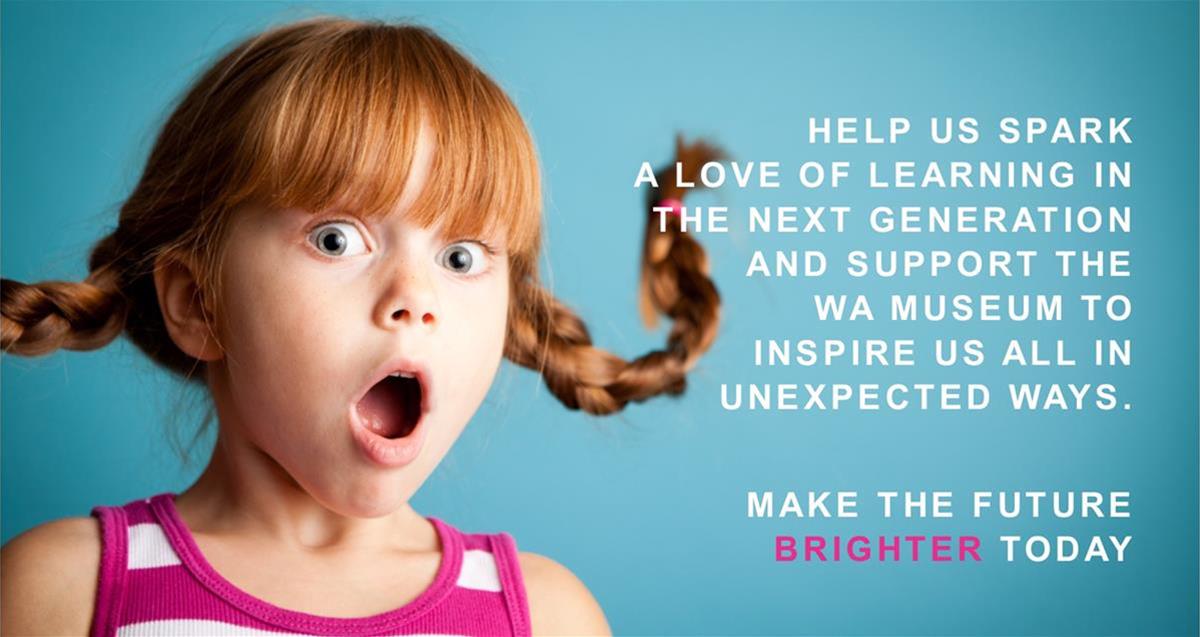 Foundation for the WA Museum
The WA Museum Foundation is the fundraising partner of the WA Museum
Details
Description
The foundation for our future
The best structures are built on strong foundations. The Foundation for the WA Museum believes that museums should spark a love of learning in the next generation. They should nurture a fascination with the past, an understanding of the present, and a passion for the future – and inspire us in unexpected ways. Importantly, they should influence and motivate young people to investigate the areas of science, technology, the arts and mathematics in the world around them.
The Foundation for the WA Museum has been committed to securing the future of our state heritage since 1995. Our role is to cultivate and develop relationships with individuals, organisations, and community groups who understand the critical role that museums play in society to create a thriving WA Museum. We assist in delivering engaging community and educational programs, support ground-breaking scientific research and discovery, source funding for exhibitions, and acquire new items for our state collection, beyond the State Government's funding
A New Museum for WA
Opening in 2020, the highly anticipated New Museum for WA will be a source of pride for the community of Western Australia and a fitting gateway to our extraordinary state.
It will provide the perfect introduction to WA's landscapes, biodiversity, culture, and geological heritage. This is an important time in our history, signifying a shift in the cultural landscape for the people of WA – and this is only the beginning.
The Discovery Endowment Fund
The Discovery Endowment Fund has been established by the Foundation for the WA Museum to unleash the potential of the New Museum for WA. With a $35M fundraising target, our mission is to help create world-class museum facilities, and to sustain and build on the excitement around the New Museum well beyond 2020. With your help, the Endowment Fund – like those for many of the world's greatest museums – will provide the secure source of income necessary for our future.
Location