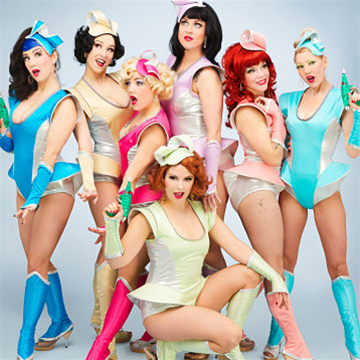 The Atomic Bombshells
These New Orleans beauties were taught their moves by the original stars of burlesque's Golden Age. Their cabaret-style performance is perfectly choreographed and full of cheeky, sultry humour.
Dates:Jan 3
Venue:Devilles Pad
Details
Venue:Devilles Pad
Audience:Adults
Description
Get ready to have your socks knocked off by THE ATOMIC BOMBSHELLS, Seattle's polished and perfectly-choreographed, professional Burlesque troupe, as they present a cabaret style show that celebrates the feminine form with high camp and classic style. This is no send-up; this is the real thing!
Originally from New Orleans, THE ATOMIC BOMBSHELLS have taken the international burlesque scene by storm. Now the girls wow audiences all over the world with their inspired combination of vintage Bourbon St. striptease, show-stopping choreography, slick production values and MGM-era glamour.
Since their debut in 2003 at The Showbox in Seattle with Burlesque superstar Dita Von Teese, The Atomic Bombshells have been in high demand, performing to packed audiences in the city's most fabulous venues, and been featured performers at Tease-O-Rama, the New York Burlesque Festival, and Miss Exotic World. Additionally the troupe is proud to include numerous award winners!
Location