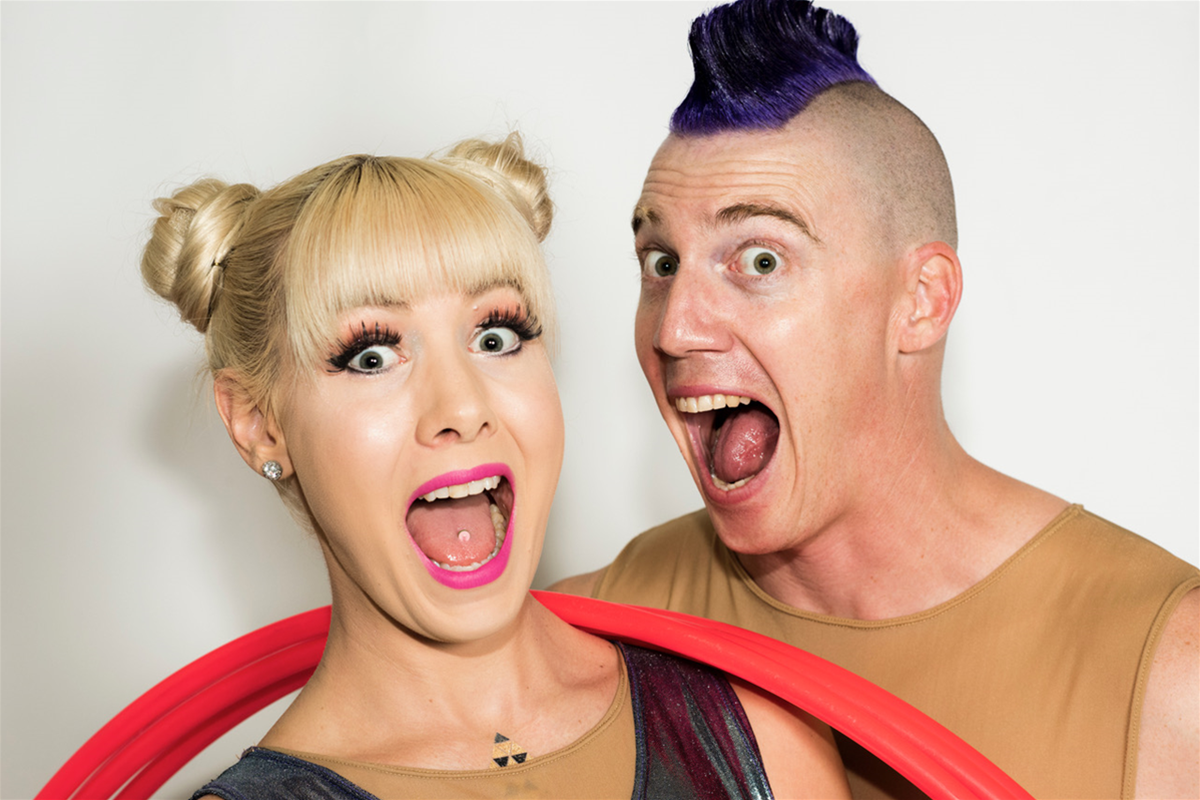 Purple People Show
Hilariously high energy acrobatic stunts and dangerous feats combine in this award-winning circus show!
Dates:30 Apr; 1 May; 3 May; 4 May; 7 May; 9 May; 11 May; 14 May; 16 May; 18 May; 21 May; 23 May; 24 May; 27 May; 29 May; 31 May; 4 June; 6 June; 12 June
Details
Hosted By:Zap Circus
Audience:Adults,Family-Friendly,For toddlers 0-3,For kids 4-12,For teens 13-17,For seniors
Description
Presented by Country Arts WA and Act-Belong-Commit
Part of Lotterywest Shows on the Go
An internationally awarded, hilarious, high energy, husband and wife duo performing acrobatic stunts and dangerous feats of grandeur; all wrapped in bright and zany costumes! With juggling, acrobatics, hula-hooping, handstands, audience interaction and comedy this show culminates in a breathtaking stunt that no-one else in the world performs; Tarrabelle attempts to spin a flaming hula-hoop around her waist while balanced 12 feet in the air on top of Rusty!
After WOWing audiences around the globe – performing in more than 30 countries across 5 continents, this truly is a world class spectacle! Tarrabelle and Rusty will lead you on a hilariously death-defying adventure through life and love, told through circus stunts. Appropriate for all ages, adored by children and loved by adults!
Tuesday 30 April – Armadale
7pm, Armadale District Hall
Locally presented by City of Armadale & Roleystone Theatre Inc.
Bookings: http://perthhillsarmadale.com.au
Wednesday 1 May – York
4pm, York Indoor Basketball Stadium
Locally presented by York CRC
Bookings: 9641 2328
Friday 3 May – Narrogin
6pm, Narrogin Town Hall
Locally presented by Arts Narrogin
Bookings: http://artsnarrogin.com.au
Saturday 4 May – Darkan
5.30pm, Darkan Town Hall
Locally presented by Shire of West Arthur & West Arthur CRC
Information: 9736 2000
Tuesday 7 May – Gnowangerup
12pm, Gnowangerup Town Hall
Locally presented by Gnowangerup CRC
Bookings: 9827 1635
Thursday 9 May – Esperance
6pm, Esperance Civic Centre
Locally presented by Esperance Civic Centre
Bookings: 9071 0666
Saturday 11 May - Kambalda
Unfortunately this show has been cancelled.
Tuesday 14 May – Mukinbudin
5pm, Mukinbudin Memorial Hall
Locally presented by Mukinbudin CRC
Bookings: 9047 2150
Thursday 16 May – Jurien Bay
5.30pm, Jurien Sport & Recreation Centre
Locally presented by Jurien Sport & Recreation Centre
Bookings: 0474 496 462
Saturday 18 May – Cue
6.30pm, Cue Shire Hall
Locally presented by Shire of Cue
Free event
Information: 9963 8600
Tuesday 21 May – Newman
6pm, The Square
Locally presented by Shire of East Pilbara
Free event
Information: 9175 8000
Thursday 23 May – Tom Price
5pm, Nintirri Centre
Locally presented by Nintirri Centre & Shire of Ashburton
Bookings: 9188 0500
Friday 24 May – Paraburdoo
4pm, Ashburton Hall
Locally presented by Shire of Ashburton, Rio Tinto & Karingal Neighbourhood Centre
Bookings: https://www.trybooking.com/BBNIA
Monday 27 May – Onslow
5.30pm, Thalanyji Oval
Locally presented by Chevron & Shire of Ashburton's Working Together Onslow Program
Free event
Information: 9184 9301
Wednesday 29 May – Pannawonica
5.30pm, The Rocks
Locally presented by Shire of Ashburton & Rio Tinto
Bookings: https://www.trybooking.com/BBNIP
Friday 31 May – Dampier
6pm, Dampier Community Hall
Locally presented by Dampier Community Association
Bookings: 9183 1243
Tuesday 4 June – Nullagine
6pm, Nullagine
Locally presented by Shire of East Pilbara
Free event
Information: 9176 1008
Thursday 6 June – Marble Bar
6pm, Marble Bar Civic Centre
Locally presented by Shire of East Pilbara
Free event
Information: 9176 1008
Wednesday 12 June – Wyndham
3pm, Ted Birch Recreation Centre
Locally presented by Shire of Wyndham-East Kimberley & Wyndham Youth Aboriginal Corporation
Free event
Enquiries:
http://facebook.com/WYACyouth
Location