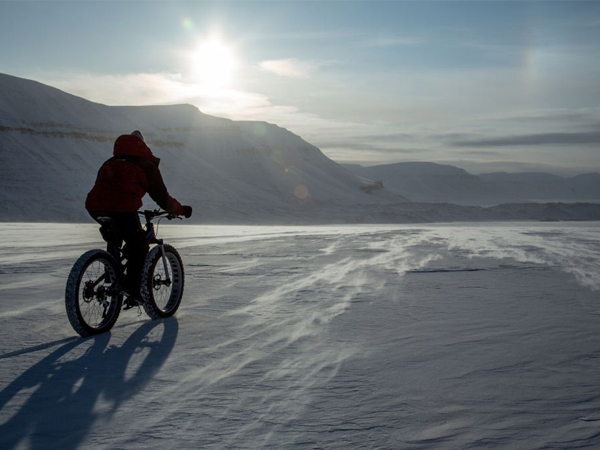 Kate Leeming Breaking the Cycle talk
Inspiring UWA Graduate Kate Leeming is embarking on a national speaking tour to discuss her past cycling expeditions and her next challenge, cycling across Antarctica.
Venue:Social Sciences Lecture Theatre (G130), UWA
Details
Venue:Social Sciences Lecture Theatre (G130), UWA
Description
UWA GRADUATE TO CYCLE ACROSS ANTARCTICA
Five years after becoming the first woman to cycle 22,000km across Africa from west to east, adventurer Kate Leeming is preparing to tackle her greatest challenge – to be the first person to cycle across Antarctica via the South Pole.
The University of Western Australia graduate, who grew up on a wheat and sheep farm in Northam, will discuss her past expeditions as well as preview her upcoming trip to Antarctica during a national speaking tour this month, in partnership with travel company World Expeditions, travel and outdoor retailer Paddy Pallin and Outer Edge magazine.
Ms Leeming's tour kicked off in Hobart last week and takes in Sydney, Brisbane, Canberra and Melbourne before returning to her home state to give a talk at UWA's Social Sciences Lecture Theatre on Thursday 25 June.
Tickets cost $20 with proceeds going to Ms Leeming's Breaking the Cycle South Pole expedition, which will raise money for the Global Fund, financing medical and educational support programs targeting HIV-related diseases.
Previous expeditions include the 25,000km Great Australian Cycle Expedition (GRACE) and the 13,400km Trans-Siberian Cycle Expedition, where she became the first woman to cycle unsupported across Russia.
Ms Leeming plans to make the 1,850km, 45-day trek across isolated Antarctica at the end of this year using a purpose-built bike designed and made in the US. It features a patented all-wheel-drive system to accommodate the extra-wide titanium forks, which will house 12cm-wide tyres.
Antarctica is the coldest, driest and windiest continent in the world and the surface under her bike will range from solid ice to extremely deep drifts of powder snow. Ms Leeming will also face dangerous crevasses in the mountainous regions and temperatures ranging from minus 10C on the coast to minus 40C at altitudes of up to 3400m. The wind chill will add significantly to the difficult nature of the challenge.
The extreme temperatures, harsh unfamiliar conditions and isolation in Antarctica has meant that the level of planning has been immense. Melbourne-based Ms Leeming has had to fit it in around her work as a professional athlete/coach in the sport of real tennis, the predecessor of modern tennis, and ongoing work on a book, film and television series from her African expedition. She started working on the Antarctica trip in 2012.
Location
Venue:Social Sciences Lecture Theatre (G130), UWA
Address: 35 Stirling Highway,Crawley,WA,6009
Phone:
Email:
Website:http://www.uwa.edu.au